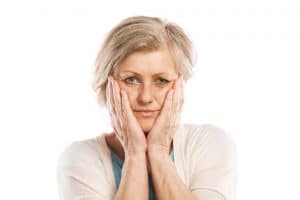 Are you a patient who wears dental implants? If you've been experiencing some amount of discomfort and you keep thinking that your teeth just don't feel the way they used to, then it might be time to come in and talk with us about your restorations. If you've been wearing the same ones for many years (or if you recently had work completed at a different practice) then we welcome you to set up a visit! It could work wonders for the balance of your smile.
What Are Restorations?
Your restorations are the prosthetic crown portion of your dental implants. They replace not your roots but the remaining part of your tooth that sticks out above gum tissue, which you can see when you open your mouth. The restoration might include a bridge, partial denture, full denture, or dental crown.
Why Check Restorations?
The balance of your smile is dependent on the way your teeth are positioned. As a result, when you receive prosthetics as tooth replacements, such as dental implants, their restorations must be positioned just so, too, in order to preserve the balance of your smile. If they are "off," then you may be able to feel it.
Does It Matter?
When teeth don't line up well, you can end up facing a variety of issues. In addition to feeling it and finding it annoying, you may also develop some issues. For instance, it may be harder to chew. You may stumble over pronouncing certain words. You may even end up headed toward TMJ disorder or bruxism because of the problem. See us to ensure your dental implant restorations are A-OK or so that we may make them that way.
Check In On Your Restorations At Our Practice
Remember that we are happy to check in on your implants and your restorations to ensure all is well. Schedule the time you need in Santa Rosa, CA by calling Santa Rosa and Rohnert Park Oral Surgery at 707-545-4625 to schedule your visit today.