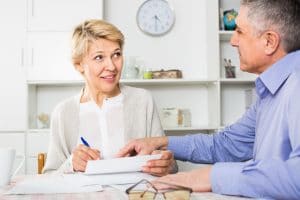 Are you keeping up with innovations in oral surgery? If so, you have almost certainly heard about the benefits of dental implants in Santa Rosa, CA. A dental implant post can support a missing tooth, and two or more implant posts can support a bridge. There are also implant options that support a full denture, replacing all of the teeth on an upper or lower ridge. One question that may come to mind as you consider dental implants: Will I be able to afford this option?
Question #1: Will They Solve Your Problem?
Beginning with the question "Can I afford it?" may be starting at the wrong end. The first question is to consult with an oral surgeon to see if implants offer the solution to your dental issue. For example, if periodontal disease is causing gum irritation and discomfort, then implants will not solve that problem. Your dentist and oral surgeon will help you assess the issue and refer you to the proper care.
Question #2: Am I a Good 

Implant 

C

andidate?

Sometimes there are other health issues that need to be addressed before implants are a reasonable recommendation. Your oral surgeon will assess the strength and overall amount of jawbone. This bone is necessary to give a seat to the implant post while the process of osseointegration takes place. Since implants are placed while under sedation, your oral surgeon will also make sure your general health and medications are compatible with sedation. In many cases, once specific jawbone and health issues are addressed, implants are a viable option.
Question #3: What Financial Resources are Available?
We have experienced staff members who can help you navigate your insurance and their reimbursement policies. When implants are used to restore a smile, this is often considered favorably when it comes to insurance payment. For patients without insurance, or when there will be a copayment or residual amount, we can help you consider financing options.
Implants Can Be An Affordable Solution That Lasts
Implants may be just the affordable solution you have been looking for. A consultation visit is the first step towards finding out if implants are right for you. Schedule the time you need in Santa Rosa, CA by calling Santa Rosa and Rohnert Park Oral Surgery at 707-545-4625 to schedule your visit today.