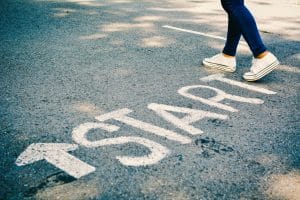 When you realize that you are just getting started with replacing your missing teeth and, now that you're fairly certain you want dental implants, you'll have to take action to get things going, you may feel a bit frozen. There must be a starting point that's easy and obvious that will help you make that final, ultimate decision, and some means of actually getting that ball rolling … but what might that include, you wonder? Fortunately, our Santa Rosa, CA team can simplify this for you in a heartbeat!
#1: Pick Up The Phone And Call
No matter what, where you are in your journey in your mind, how much you know (or don't know) about dental implants, etc., one of the things that you can and should do very early on is simply pick up the phone and call us. In order to begin learning more about implants and to find out everything you need to know to get started and even to follow through with care, it's going to have to start with a meeting between yourself and our team! So, don't hesitate. We would love to meet you and to discuss how implants can positively impact your smile.
#2: Reflect On The Full Journey Ahead
Go ahead and spend some time reflecting on the full journey ahead. If you know just the basics, then you know dental implants are going to require a little more than traditional prosthetics, such as a longer amount of time from start to finish, they'll require oral surgery, etc. Think about the details and imagine yourself with implants. Then, check in on how you might be able to align the process with your life. This will help provide your foundation, once you've figured out how receiving implants can work for you based on time, energy, etc.
#3: Make A Pros-And-Cons List
Take a moment to compare traditional prosthetics to those supported by dental implants. When you do this, you help yourself take a very analytical approach to better understanding how you feel. Does it turn out that there are far more pros on your implants list? Take time to process the information and, if it is revealed that implants work for you, come on in to get started!
Make Implants Part Of Your Life
When you feel that you're definitely ready to make dental implants a part of your life, as you decide to replace your missing teeth with them, we are here to help you every step of the way along your journey! Schedule the time you need in Santa Rosa, CA by calling Santa Rosa and Rohnert Park Oral Surgery at 707-545-4625 to schedule your visit today.