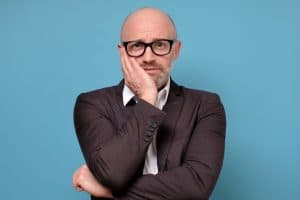 Our smiles are highly personal, and it's understandable we want them to look their best. If you have an uncomfortable or ill-fitting denture or bridge, every smile can be a challenge. If you have been considering the advantages of implant dentures, or if your dentist has recommended the services of a caring and experienced oral surgeon in Santa Rosa and Rohnert Park, CA, maybe it is time to set aside your fear and get more information. If you have outdated or uncomfortable restorations, we can suggest a variety of comfortable and natural looking implant options.
Fear of… The Time and Trouble
We eat, speak, laugh and smile every day, and being secure and comfortable in these activities is no small thing. You may think "it sound like so much work!" to make a change. Most people find the initial investment of time is worth it for the payoff of a healthy, comfortable and natural looking smile they can enjoy for years. Some patients may be candidates for All-on-Four dentures, which decrease recovery time, among other benefits.
Fear of… Will It Be Uncomfortable (or Worse!)
We will make sure you are fully informed of what to expect before, during and after your surgery. Whether you prefer to watch a video featuring one of our doctors, or read a handout from our website, we are happy to provide information in advance. We have anesthesia options for surgery, and will make sure you have all the post-operative instructions necessary, when you need them.
Fear of… How Expensive Is It Going to Be
We understand that patients may have financial concerns. Our trusted staff members are familiar with many insurance plans, as well as private pay situations. We can help you navigate the financial aspects of any recommendations, to avoid last minute surprises, and help you to be aware of any payment expectations, in advance of going forward.
Get the Facts To Help Allay Your Dental Implant Concerns
We want you to have the information you need, to make informed dental implant decisions for the health and comfort of your smile. To learn more about your options, or to schedule a consultation, call Santa Rosa and Rohnert Park Oral Surgery in Santa Rosa, CA, today at 707-545-4625.