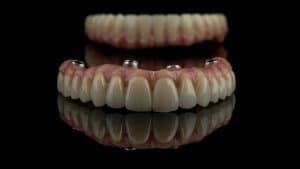 While losing one or more teeth can cause some obvious cosmetic concerns, it can more importantly cause functional concerns as well, and even lead to increased chances of future tooth loss. Because your adult teeth are permanent and will not grow back once gone, it is important to consider replacement in order to preserve your oral health. In today's blog, your Santa Rosa, CA Oral Surgeons will look at the number of dental concerns that arise from missing structures, and how a dental implant can address them.
One Missing Structure
It goes without saying that every tooth is comprised of two main parts – the root that is embedded beneath the gum line in the jaw, and the crown. While traditional restorative methods such as adhesive-secured dentures addressed the need to bite and chew food, it was unable to do so optimally because it failed to consider the function of the root. A root acts as an anchor that is secured tightly within the jaw bone, allowing the crown to effectively absorb the pressure of your bite. When you have a missing structure, your bite must readjust in order to accommodate the open space, causing concerns such as difficulties biting, chewing, enunciating, strain, and even discomfort and pain. To combat these problems, your oral surgeon may recommend a dental implant.
A dental implant consists of a biocompatible titanium post that serves as an artificial root, creating a secure bond in the jaw bone once it has healed around the post that also is able to withstand and absorb your natural bite pressure. Atop the post a restoration with an abutment will sit securely, offering a lifelike crown that closely mimics the shape, texture, and even shade of the rest of your smile. By replacing your missing tooth, you will once again get to enjoy the near full range of your functional capabilities.
Addressing Several Lost Teeth
Another major benefit of a dental implant is that it has the ability to address a single structure or even multiple missing teeth. In the event of losing multiple adjacent teeth, your oral surgeon may suggest a bridge in order to complete your grin and its function. While traditional bridges could make surrounding teeth more susceptible to harm, implant-retained bridges offer the benefits of the conventional restoration with the long-term benefits of posts.
Implant-Secured Dentures
Not only can they address one or a few structures, but all missing teeth as well. Indeed, partial or full dentures can also be secured with biocompatible posts, and even done so in a way that minimizes the level of extensive treatment. For more information, contact our team today.
Find Out More
To learn more about the benefits of lifelike restorations or to schedule your initial appointment today, contact Santa Rosa Oral Surgery in Santa Rosa, CA by calling 707-545-4625 today.