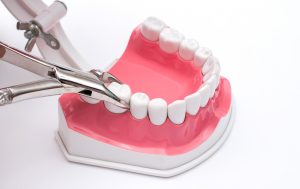 Many of our oral and maxillofacial surgeries are designed to help preserve your smile and protect your teeth. However, sometimes we actually need to remove a tooth as part of your treatment. In today's blog, your Santa Rosa and Rohnert Park, CA, oral surgeons will explain how we perform a general extraction, and how this could help your smile.
Sedation and Extraction
How do we remove the teeth and ensure you remain comfortable? Well, first we administer a local numbing agent to the portion of the smile from which the tooth will be removed. Next, we may offer sedation, especially for those with dental anxiety or special needs. We have three options, nitrous oxide, oral sedation, and IV, and our team is certified and experienced in the administration of sedation, and a trained anesthesiologist will be on-hand. Once you're comfortable, we will use forceps to loosen and remove the teeth. The extraction site is then sutured closed. Afterward, we will have instructions for the first day to facilitate a fast-healing period, and will remove the sutures at a future appointment.
Preparing Smiles for Implant Placement
If you're receiving dental implant dentures, then our team may need to extract the few remining teeth in your smile. We then do just that, removing the teeth and taking detailed digital images to create a 3D impression. The next step is to insert the dental implants, and then attach the prosthetic to complete your smile!
Removing Wisdom Teeth
One of the most common reasons to undergo an extraction is to take out wisdom teeth. These third molars arrive in our late teens and early 20s, and could lead to misalignment, infection, damaged teeth, and even painful partial eruption known as an impaction. However, taking them out before they erupt could help preserve your smile's beauty and alignment!
Other Reasons
We could also remove teeth that have become severely impacted, or baby teeth that haven't fallen out on schedule. Extraction could also make room to reposition the rest of your smile with orthodontics. We also take out teeth severely damaged in an emergency, preventing infection from arising. Taking out a tooth could also address very decayed or infected teeth. If you have any questions about how our team facilitates a safe and comfortable extraction, or if you have a concern that may benefit from an oral surgical procedure, then contact our team today.
Do You Have Questions About Tooth Removal?
We want to help you enjoy optimal oral health and this could mean removing a tooth. To learn more about how we safely and comfortably remove one or more natural teeth, then schedule a consultation by calling Santa Rosa and Rohnert Park Oral Surgery in Santa Rosa, CA, today at 707-545-4625.