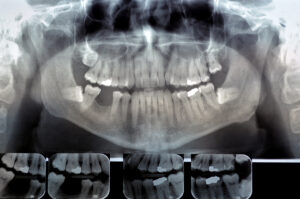 When we want to see what's happening beneath your gums and oral structures, we will use x-ray technology. But to ensure our diagnosis is the most precise and accurate possible, we use digital ones instead of traditional systems. In today's blog, your Santa Rosa and Rohnert Park, CA, oral and maxillofacial surgeons talk about the benefits of digital x-rays.
Going Digital
Going digital offers a number of benefits for both our patients and our team members. The images will be available instantly, no need to wait for a lengthy development period, and no need for harsh chemicals to develop them in. The images will instantly be available right away chairside, so we can walk you through the diagnostic process. This system also uses a fraction of the radiation that traditional systems require, up to 90% less!
Panoramic Images
A panoramic digital x-ray image shows us the entire mouth in a single image! This includes the upper and lower jaws, the teeth and roots, sinus cavities, and nerve tissues too. Which means we can plan treatment to avoid sinus cavities and nerve tissues, and that we can pinpoint the exact position of an impacted or malpositioned tooth. We also assess the strength of the jawbone before implant placement to see if a patient needs grafting or sinus lifts. We also plan extractions, facial trauma treatment, and more!
Essentially, you will stand still while the machine encircles your head, gathering a complete picture of your mouth and jaw. The process is safe and comfortable, using less radiation and only taking a few seconds to complete. We can then offer a diagnosis and plan treatment with precision and accuracy.
ICAT Scanning
We could also take images using cone beam computed tomography, or an ICAT scan, which takes 3D pictures of your jaw, oral structures, teeth, and roots. This uses less radiation than traditional medical CT scans, and allows us to plan extraction, implant placement, and other oral structures with precision and accuracy, all while pinpoint the location of sinus cavities and nerve tissues in great detail, so we avoid them during treatment. If you have any questions about our approach to oral surgery, or about the technologies we use, then please don't hesitate to contact our team today. We would love to help you enjoy good oral health and avoid issues with your smile that impact function, health, and beauty down the road.
Contact Our Team Today
We always strive to offer the latest technology when restoring a smile using oral surgery. If you have any questions about our diagnostic process and the systems we use, then contact your Santa Rosa, CA, oral surgeons by calling 707-545-4625. We're here to help you enjoy better oral health, and are ready to work alongside your general dentist or orthodontist.