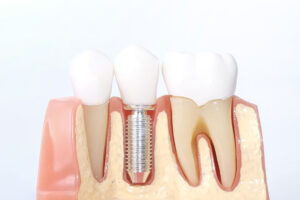 Missing teeth can be a source of major changes to your smile, causing an aged appearance and even complicating how you eat and speak. But to offer a secure and long-lasting solution to missing teeth, we could provide dental implants. In today's blog, your Santa Rosa and Rohnert Park, CA, oral and maxillofacial surgeons talk about implant dentistry.
The Causes of Tooth Loss (and the Dangers)
We lose our teeth to factors like untreated tooth decay, a serious infection, or even an injury or accident. But the most common factor is gum disease. Without care to manage this disease, it enters a more advanced stage known as periodontitis, one that could case you to lose your natural teeth. Missing teeth not only means embarrassing gaps in your smile, but also the loss of mass and density in the jawbone, a developing factor that leads to further tooth loss and a prematurely aged appearance. You could also develop misalignment, painful jaw joint disorders like TMD and bruxism, or even trouble eating properly or speaking clearly. To avoid these dangers, you need tooth replacement that not only fills the gaps in your smile, but safeguards your oral structures as well.
Placing the Dental Implants
The dental implant itself is a small, screw-like device made from titanium, a biocompatible material that the body accepts as natural root structure. This allows it to bond with the jawbone through osseointegration. Essentially, this prevents the jaw from losing mass and density, and preserves your more youthful facial features, while also preventing further tooth loss. We carefully plan and guide the placement, choosing the optimal angles and positions to not only support a new tooth, but stimulate the growth of jawbone tissues as well. We employ the advanced Straumann Dental Implant System.
Dental Restorations and Prosthetics
What about the visible portion of your smile? For an individual one, we wait until the placement area heals, and then we attach an abutment to the post that extends above the gum line. A custom crown is attached to the abutment, offering a new tooth that looks natural and provides a durable chewing surface. But we can also insert multiple posts per arch, and connect abutments to secure a bridge or even a full set of dentures. With options like All-On-Four, we can accomplish this in only one visit with as little as four posts per arch. If you have any questions, then give us a call today to set up a consultation and start your journey to a full and beautiful smile.
Do You Have Missing Teeth?
We would love to help you secure a custom prosthetic or individual replacement tooth. If you would like to learn more about our approach to implant dentistry, then contact your Santa Rosa, CA, oral surgeons by calling 707-545-4625.