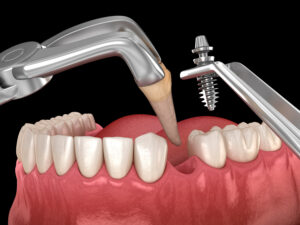 Dental implants are durable, lifelike, and can last for years to come, possibly decades. In addition, they help preserve your facial structure and jawbone strength too. In today's blog, your Santa Rosa and Rohnert Park, CA, oral and maxillofacial surgeons talk about what makes them so durable and strong!
What Makes Them So Successful?
Dental implants don't need clasps or crowns to stay in place. Instead, a post, one similar in appearance to a small screw, is inserted into the jawbone. Made from titanium, a biocompatible material, this post will bond with the natural structure through a process known as osseointegration. The body accepts them as natural posts, and this prevents the smile from losing mass and density, which usually happens after tooth loss. As a result, they act as new roots and keep the jawbone whole and strong., You have new teeth that can last years, and a success rate of over 95% after ten years, and you preserve your jawbone and facial structure too.
How Do We Place and Restore Them?
They need to be placed at the right and position to not only stimulate the growth of jawbone tissue, but to support a new crown for an individual one, or a bridge or prosthetic should you have more advanced tooth loss. To plan and guide this process, we use digital x-rays and CBCT technology, enabling us to look at the jawbone structure in detail and choose the right position for your new root. Digital surgical guides are then employed to help guide them into proper position.
Now, the time comes for the visible portion of your new tooth. For an individual one, we wait for the placement area to heal and then we attach an abutment and dental crown. The crown will be custom-made to ensure a lifelike appearance. We can also attach bridges and dentures, often in the same visit as placement.
Who Makes a Good Candidate?
Nearly everyone is a good candidate, we first need to examine your smile and make sure you don't need us to first manage issues like periodontitis, which could otherwise mean implant failure. If you have severely weakened jawbone tissue due to tooth loss, we could rebuild it with grafting or sinus lifts. Our team could use options like All-On-Four, which use smaller posts and can help support dentures in only one visit.
If you have any questions about treating tooth loss, then contact our team today to learn more.
Do You Have Questions About Placing Dental Implants?
We would like to help you better understand the benefits of implant dentistry. If you would like to learn more about replacing your lost teeth and rebuilding your smile, then contact your Santa Rosa, CA, oral surgeons by calling 707-545-4625.