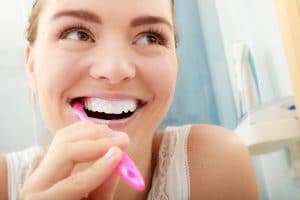 Did you celebrate National Dental Hygiene Month with us last year? If so, good for you! If you're new to this, then you will be pleased to learn that this duration of recognition for keeping smiles healthy through home care happens during this upcoming 10th month of the year: October. For 2017, we'd like to guide you through a quick review of details you need to keep in mind, so your dental implants remain safe and your entire smile remains healthy.
Keep Things Fun
We know that you might not think of dental hygiene as a lot of fun. However, since you've got to do it every day to protect your smile and dental implants, why choose any other option? For a wonderful time with brushing and flossing, remember to fill your sessions up with products, colors, flavors, and textures that you enjoy using. It will make a big difference.
Keep Questions Answered
Don't keep your questions to yourself. Whether you wonder why your gums look puffy, you aren't sure if you're brushing correctly, or if anything else comes up, take the time to ask us!
Keep Smiles Clean
No matter how you approach it, caring for dental implants is always going to require you to keep your smile in very clean condition. Keeping it clean and safe requires you to remain as consistent as possible with your brushing and your flossing. This is true of your natural tissues, as well. Fortunately, you'll only be caring for your smile for about 6 or so minutes every day (2-minute brushing session in the morning, 2-minute brushing session in the evening, 2-minute flossing session once a day). It's not a lot to ask but it provides you with truly effective protection!
Protect Your Implants With Optimal Care
Remember to ask us about how to best care for your teeth and gums, so you can protect implants without a problem. Schedule the time you need in Santa Rosa, CA by calling Santa Rosa and Rohnert Park Oral Surgery at 707-545-4625 to schedule your visit today.