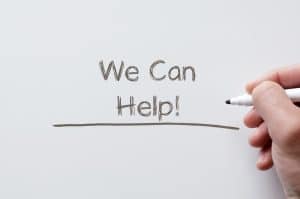 You're on the fence. You want to call us and say, "Okay! Let's schedule a visit, I'm ready for dental implants!" but you haven't done that yet. Maybe you're thinking and thinking throughout the day about something in particular. Maybe you have some "fill in the blank" moments in which you need more information but you haven't learned about it yet. There are some very simple fixes for whatever type of hesitation you're experiencing! Want to know more? We thought you might…
Check Out Our Website
Before you search elsewhere or figure that you need to come in for a visit for a question that you think just might have a simple answer, we encourage you to hop online. No, we aren't suggesting you type your questions into Google. You might end up with a ton of unreliable information as a result. Instead, visit our FAQs page and take a look through our site. We offer a lot of details that may speak to your thoughts or concerns, making it easier to feel confident about dental implants.
Go Ahead And Call
Whether you've scoured our site, you don't feel like hunting for information, or you need to ask us questions that are unique to your personal requirements, go ahead and call us! We are always happy to set up a time to talk with you about your smile, about dental implants, about any other procedures you need, and more. Remember that our practice provides a long list of treatment options, we offer sedation and can speak with you regarding handing anxiety, and our care is truly comprehensive. Just let us know what it is that you need to feel comfortable, so we may help.
Remember That We Are Here To Help
If you have questions, feel like you need more information, or require any other details from us, remember that we are here to see you, offer answers, and ensure you feel prepared for smile care. Schedule the time you need in Santa Rosa, CA by calling Santa Rosa and Rohnert Park Oral Surgery at 707-545-4625 to schedule your visit today.