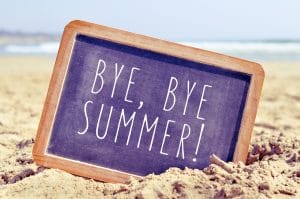 Of course, we love reminding you that summer is such an easy, lovely time to set up wisdom teeth removal for your kiddos if they are in need of third molar removal! However, that doesn't mean you need to feel stressed if your summer is already packed and you don't seem to have a moment to schedule anything else in. Of course, you've got the rest of the year to work with, so let's work our way through additional suggestions to ensure you're feeling relaxed and optimistic about taking care of this highly important detail for your child's oral health.
Fall And Winter Are Good Too
Yes, of course, summer break is long and luxurious and a wonderful time of year to schedule wisdom teeth removal. That is, unless you already have your entire summer planned or these months just aren't advantageous for you. There's no need to worry: Remember, there are the fall and winter holidays that give the kids (and probably you, too) the time you need for oral procedures.
Don't Forget About Spring!
Wisdom teeth removal over spring break, anyone? Yes, your kids are likely going to want to spend time doing something very cool and spring-break-y but this is often a very convenient time to address wisdom teeth that must come out. It's a quick break from the usual routine that might give you just the time you've been looking for.
Set It Up In Advance If That Helps
You may have stumbled across one of our suggestions for wisdom teeth removal over the summer break only to think to yourself, "Oh no! If I'd considered this sooner, I would have set aside some time!" If you're someone whose schedule (and whose teen or young adult child's schedule) is often difficult to maneuver, we strongly encourage setting up the treatment in advance. Figure out a time that will work for everyone, even if it means prepping months out, so you've got it on the calendar. Remember: Removing problematic third molars is extremely important as you help protect your child's smile.
Set Up Wisdom Teeth Removal Ahead Of Time
Contact us and talk with us about the best time to get your son or daughter's wisdom teeth removal procedure scheduled. Schedule the time you need in Rohnert Park, CA by calling Santa Rosa and Rohnert Park Oral Surgery at 707-584-1630 to schedule your visit today.