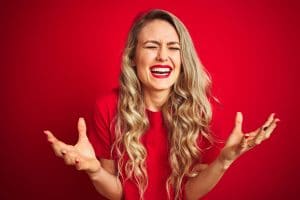 While it doesn't seem like much to think about at the beginning, as you find yourself deeper into the experience of considering dental implants, you may find that you deal with some extremes in emotion! You may at one moment feel elated and ready to sign up! At the next, however, you may find that you're quite anxious. Since it never seems like a very good plan to make choices hastily or when you're feeling too intense about something to one end of the spectrum or another, our Santa Rosa, CA team can help you figure out how to address such concerns!
When You Worry You're Too Excited
Apply logic! When you find that your emotions are running high and it all seems to cause you to feel so excited about dental implants that you're actually worried you're not seeing things clearly, remember, you can simply stop and ignore the emotions for a moment. Instead, rely on logic. Write out a list of pros and cons. Remembering that nothing is perfect will help ground you, as you realize in a very rational and sound way that you're selecting implants for the unique benefits that they offer (not just because they sound amazing).
When You Realize You're Nervous About Nothing
We know that sometimes, as a patient, you just feel nervous. It's normal. One moment, you have a complete and healthy smile. The next, you seem to have been propelled into some alternate universe, in which you're not only missing some of your teeth but you're also trying to figure out how to replace them correctly. It's a lot to take in all at once and it can feel like a big decision. However, remember that anxiety is not a tangible thing but it can be useful! Instead, when there's nothing to worry about but you still feel your nerves, think of them as a reminder to truly consider all of the information you have. If you're missing info, just ask for details. You can then remind yourself that you're making an educated decision you feel confident in.
When You're Simply Overwhelmed
Our team reminds you that if you're feeling overwhelmed, which makes it hard to know how you feel about dental implants, it's a good time to come in to sort through the details with our team. We can cover the basics and the intricate details, so you can see the bigger picture with ease.
Feel Calm And Collected About Implants
Let us know when you are in need of advice, further details, clarification, or anything else in regard to dental implant information. The more knowledge you gain, the easier it will be to make a sound decision for your smile. Schedule the time you need in Santa Rosa, CA by calling Santa Rosa and Rohnert Park Oral Surgery at 707-545-4625 to schedule your visit today.