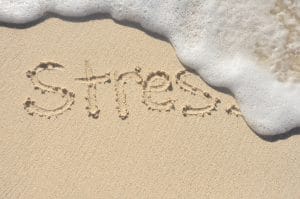 You may feel as though you are stressed about potentially coming in for oral surgery. However, we remind you: Our Santa Rosa, CA team can absolutely help you through that! We can explain every last detail of what to expect, talk you through the comfort level you can look forward to (which is quite high), and make you feel much better about the treatment itself. With that said, you may be placing so much emphasis on avoiding care that you are overlooking the fact that this is actually what's causing you the most anxiety! How can repairing smile problems lead to a great decrease in day-to-day stress, you wonder? Why, it's time to find out!
The Procrastination-Based Worry Is Gone
When you have any type of issue that requires oral surgery, when you treat the problem immediately, there's no time for deliberating, wondering about "what if" questions, anticipating treatment, or procrastinating. Remember, as you put treatment off, you can feel more and more anxious about scheduling it, as you worry that the problem that requires attention may progress. We simply remind you that the moment your treatment is over, there's no more scheduling stress. Just a healthy smile!
Any Pain Or Functional Issues Go Away
Now, let's talk more about the physical side of stress associated with waiting on oral surgery that you really need. Maybe you are dealing with a wisdom tooth that really needs to be removed and it's causing you a lot of discomfort. Dealing with daily pain is not only a stress on your body but it also takes an emotional toll. We remind you that following through with the removal of your tooth (or any treatment that addresses a problem that yields discomfort) will end the issue and provide you with the restoration of your comfortable smile! You'll get your oral health back, so life can get back to normal.
Your Present And Future Smile Are Good Again
When you're dealing with anything from missing teeth to damaged teeth or anything in between, you are in a state of having "something wrong" with your smile. You carry this with you every day. It may get in the way of your eating, your speaking, your confidence in your appearance, and more. Remember, when you treat problems by removing damaged teeth, replacing missing teeth with dental implants, and more with oral surgery, you immediately benefit your daily quality of life (which bounces right back into place, once your oral health is repaired).
Reduce Stress With A Healthy Smile
Come in for the oral surgery you need, in order to attain a much healthier, more functional smile. Remember that taking care of oral health needs can provide you with a greatly improved daily quality of life! Schedule the time you need in Santa Rosa, CA by calling Santa Rosa and Rohnert Park Oral Surgery at 707-545-4625 to schedule your visit today.