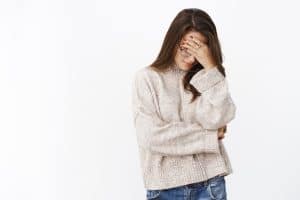 Here's the scenario: You know without any doubt that what you need in order to get your smile back in shape is oral surgery. You're not worried about receiving it and you're actually looking forward to making your smile all better again. However, what you are dealing with that's not so fantastic is some embarrassment about your smile damage. Some aspect of what's going on with your oral structures and the fact that you need to visit our Rohnert Park, CA team has you on edge and, as a result, hesitant to see us for the care you require! We've heard it before! We empathize. We also remind you that there's no reason to feel shy. Allow us to elaborate.
We're Here To Help, Not Judge
We are here to help you through oral surgery. We aren't here to judge you! Remember that what we prefer to do is to create lasting relationships with our patients, so what you can definitely expect is that we will listen to what you have to say, respect your experience, and focus on guiding your oral tissues back into good health. It's that simple. Whether it's a missing tooth, lots of missing teeth, problems with your jaw health, difficult wisdom teeth, and the list goes on … come see us!
We're Humans, Too!
Sure, we may have a leg up when it comes to fully understanding how to protect our oral health but that's because we are a team of oral and maxillofacial surgeons. However, don't forget that we are human, too! We've all dealt with our own share of the good and the bad in life because we're people. So, remember that we have had some embarrassments, too, and we can certainly connect with how you're feeling and are happy to help with oral surgery!
You're Embarrassed About The Cause Of Your Damage
Did you trip and fall while you were texting, knocking out some of your teeth? Did you just not brush and floss for three years and end up with serious issues? We know that you feel shy about it. However, you don't have to. Our sole goal is to fix the problem, so focus on the future with us!
It's Been A While
Perhaps you aren't embarrassed so much about the problem you're dealing with but the fact that it's become severe because you have waited a very long time. Again, remember: We understand! In case you didn't already know this, dental anxiety is a very real thing that impacts millions of people. We're just happy you've chosen to address your smile concerns. Note: We offer dental sedation, so your oral surgery will be very relaxing.
Meet Our Friendly Oral Surgeon Team!
Put aside your embarrassment over the problems you're having with your smile and focus on meeting our friendly and compassionate team of oral and maxillofacial surgeons, so we may help you! Schedule the time you need in Rohnert Park, CA by calling Santa Rosa and Rohnert Park Oral Surgery at 707-584-1630 to schedule your visit today.