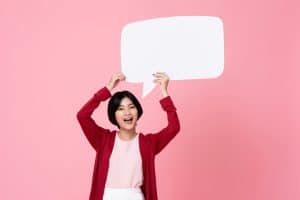 The certainty that shows up when you realize you want dental implants is not usually something that you find yourself questioning. It's a simple feeling! You learn about implants, you are missing some of your teeth, and they sound like an absolutely amazing way to solve your current smile problem. However, that doesn't mean that all of your self-talk is positive in nature! Instead, you may want them so much that you worry you'll be disappointed, so that internal monologue turns a bit negative (so you don't feel quite as worried about getting your hopes up a bit too high). Good news: Our Rohnert Park, CA team reminds you that implants are absolutely an option for you. Now, about those things you should stop telling yourself about implants, so you can make room for them in your life (and your smile)…
#1: Implants Probably Aren't For Me
We certainly understand that if you come from the school of thought that puts dental implants up on a pedestal as a luxury treatment, you may guess they may not be for you. However, remember: They're actually accessible to everyone and also provide extraordinary benefits we would love for you to consider. So, instead, think to yourself: I wonder what makes implants a good choice for me!
#2: I Probably Waited Way Too Long
Sure, it's easiest in most cases to provide dental implants to a patient who just experienced tooth loss and has a completely healthy jaw. However, if that doesn't describe you, then that's perfectly okay! Treatments to set you back on a path toward excellent candidacy for implants exist and are available at our practice! So, don't guess that it's out of the question. Instead, come in to find out how to make implants an option!
#3: I Shouldn't Expect Too Much From My Visit
Fair enough! We realize you may have visited other practices in the past and may not have had the best of experiences. However, when you're coming in to talk with our team of oral and maxillofacial surgeons about replacing your missing teeth with dental implants, we are happy to report to you that you can actually set your expectations quite high! Allow us to show you that we can most certainly live up to what you're hoping to get out of a consultation to learn more about implants. We'll provide you with the basics, the ins and outs as they apply to you, and we will wow you with the fact that you have many options (and we're here to find the one that will truly work for you). See you very soon!
Enjoy What Implants Have To Offer
Discover a whole new world of options for your tooth replacement hopes and dreams, when you visit our oral and maxillofacial surgery team to learn about dental implants! Schedule a consultation with us soon. Schedule the time you need in Rohnert Park, CA by calling Santa Rosa and Rohnert Park Oral Surgery at 707-584-1630 to schedule your visit today.