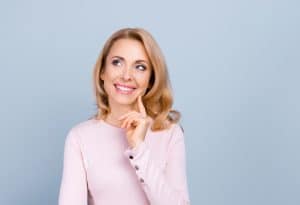 When it comes to your dental treatment, what's best for your smile is the treatment option that offers the most lifelike and conservative option for restoring your good oral health. In the case of tooth loss, however, that can be trickier than addressing more common dental concerns. You have few options when it comes to replacing your lost teeth, based mainly on exactly how many teeth you've lost. However, one of those options almost always includes a prosthesis that's supported on one or more dental implant posts. Today, we examine why dental implants are often better for your smile and oral health, and why you should consider them if you need to address tooth loss of any degree.
They do more for your oral health
The biggest difference between traditional and implant-supported replacement teeth is that one comes with realistic, root-like anchors. While traditional replacement teeth rely on discreet and comfortable supportive solutions, they can't mimic the way your healthy, natural teeth are situated on biological roots. However, dental implants can give them this ability, which does more for your oral health than you might immediately realize. For instance, the support of root-like anchors gives your restoration the ability to interact better with your dental ridge and jawbone structure. Every time you bite and chew, the implants will stimulate this structure to help keep it strong and healthy for life.
They make your replacement teeth sturdier
To interact with your jawbone the way teeth roots do, dental implants have to be inserted into it. This makes placing dental implants more complex than placing a traditional dental bridge or denture. Yet, it also makes your new prosthesis much sturdier and more comfortable. As you use it to bite and chew your food, speak, and smile with others, you'll notice an important difference in how your restoration feels compared to your traditional one. This is largely due to the restoration's ability to more closely mimic the natural structures of your teeth and their roots.
They make daily care and maintenance easier
In addition to how your restoration fits and functions, another important difference that dental implants make involves the daily care and maintenance of your smile and restoration. With dental implants securing it in place, your dental bridge or denture won't be removable, and won't need to be. With good hygiene practices and regular care from your dentist or oral health expert, you can successfully care for your dental implants and smile to improve your chances of preventing any concerns from developing later.
Rebuild your smile better with dental implants
Dental implants are the only way to address some of the more serious consequences of tooth loss, making them the better option for rebuilding your smile afterward. To learn more, or to schedule a consultation, call Santa Rosa and Rohnert Park Oral Surgery in Santa Rosa, CA, today at 707-545-4625.