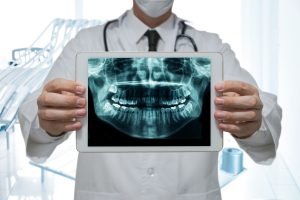 When you suffer an accident or injury to the face or jaw, this could mean severe lacerations, damage to oral structures and bones, and even broken or missing teeth. To restore your smile and prevent further complications, you may need treatment from trained and talented oral and maxillofacial surgeons. In today's blog, your Santa Rosa and Rohnert Park, CA, oral surgeons discuss treating facial trauma.
Common Injuries and Traumas
When you sustain an accident, whether minor or severe, this could lead to damaged oral structures, facial lacerations, or even damaged or missing teeth. You could even have a fractured jaw! These factors impact how your smile heals, causing issues with your facial structure, overall esthetics, and could impact the balance of your bite. Imbalance and jaw joint strain could mean you develop painful complications like TMJ disorder and bruxism (teeth grinding), airways obstructions, and even further tooth loss. Treatment is crucial for restoring not only the beauty of your smile, but overall health and function as well.
Planning Treatment
First, we need to obtain a clear picture of your current oral health, and the extent of your injuries. To do so, we do more than a simple visual scan. We also take detailed digital images with intraoral cameras, digital x-rays, and advanced iCat imaging technology. These images show us detailed pictures of your teeth and gums, as well as roots and oral and facial structures. We see them in detail, and they're available instantly chairside. We can answer your questions and plan your treatment with precision and accuracy, as we have an accurate picture of your smile.
Treatment
We're experienced in administering corrective jaw surgery, treating facial lacerations, and even replacing missing teeth with lifelike dental implants. Our team can also rebuild damaged or lost jawbone structures with ridge augmentation and sinus lifts, preparing your smile to receive new implants in the process. We also correct the position of your teeth and facial bones too, so we can correct minor or even complex injuries. Doing so improves the balance of your bite and helps restore your facial structure. If you have any questions about how we approach oral surgery to treat emergency situations and traumas, then contact our team today to learn more.
Ready for Emergency Treatment?
Our team of oral and maxillofacial surgeons are ready to help you find the best solutions for your injuries, whether mild or severe, so you continue to enjoy an attractive smile and avoid major complications. To learn more about our approach to treating injuries and replacing missing teeth following facial trauma, then schedule a consultation by calling Santa Rosa and Rohnert Park Oral Surgery in Santa Rosa, CA, today at 707-545-4625.