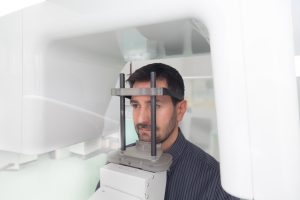 Your Santa Rosa and Rohnert Park, CA, oral surgeons want to help rebuild smiles in our community, from extractions and dental implant placement, or sinus lifts and jawbone grafting procedures. However, to offer these procedures with precision and accuracy, we need to employ advanced technology. In today's blog, let's look at how we plan and guide procedures with CBCT technology.
When Should You Seek Treatment?
You may be referred to us by your general dentist or orthodontist, and we often work alongside general demits and orthodontists to help their patients on the path toward better oral health. As oral and maxillofacial surgeons, our team is experienced in handling more extensive oral health problems. For example, we offer general extractions to remove diseased or infected teeth, and to prepare smiles for prosthetics or orthodontics care. We could prepare smiles for implant placement with jawbone grafting and sinus lifts, or place one or more dental implants too. We're experienced in addressing oral pathologies too, such as sores and lesions that don't heal after a week. But to guide and complete the process with accuracy and precision, we employ advanced technology from day one.
Planning and Guiding the Procedure
Cone Beam Computed Tomography enables our team to obtain clear and detailed digital images of your teeth, gums, jaw, and oral structures. The images will be in high definition, and available instantly chairside so we can walk you through the diagnostic process and help you better understand your smile. The system also uses a fraction of the radiation employed with traditional x-ray and imaging systems. We use the images to identify and take note of sinuses, nerve tissues, and other parts of your smile, to provide safe and effective treatment, whether we're placing a dental implant or removing a wisdom tooth.
Oral Surgery
Along with diagnosing the issue, the images help us administer treatment and guide the process too. We also use dental sedation to help offer comfort and relaxation to people undergoing these procedures, ensuring you enjoy optimal treatment, a fast-healing period, and a comfortable experience at the office. If you have any questions about our use of CBCT technology, or if you have an issue that needs attention from skilled and experienced oral surgeons, then please contact our team today. We want to help you enjoy optimal oral health, and a smile that makes you feel proud.
Does Your Smile Need Oral Surgery?
Our team of oral and maxillofacial surgeons want to help rebuild smiles, replacing missing teeth, and help address common oral pathologies. To learn more about how our team will offer oral surgery to restore oral health and function, then schedule a consultation by calling Santa Rosa and Rohnert Park Oral Surgery in Santa Rosa, CA, today at 707-545-4625.