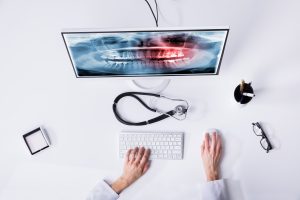 When you see our team for oral surgery, we want to complete a thorough exam of your smile. This not only ensures a proper diagnosis, but also lets us properly guide treatment. In today's blog, your Santa Rosa and Rohnert Park, CA, oral surgeons will explain how we use digital x-rays to plan your care.
When to See Us
Our oral and maxillofacial surgeons are ready to address a number of serious oral health issues. We could perform general extractions to prevent wisdom tooth impaction and clear the way for implant dentures. We also perform the placement and restoration of individual dental implants and dentures. Our team treats common oral pathologies, and also completes jawbone grafting and sinus lifts to make smiles ready for tooth loss, and to combat the loss of jawbone structure due to prolonged tooth loss. No to mention corrective jaw surgery and more! You may see us for these concerns, or you could be referred by your general dentist or orthodontist, who we'll gladly work alongside to help your smile!
The Digital X-Rays
Instead of traditional x-rays, we take a digital approach. The technology uses up to 90% less radiation, and the images don't need to be developed in harsh chemicals. Instead, they're available instantly chairside. We can even walk you through the diagnostic process! With our panoramic option, we capture incredibly detailed images of your entire smile at once, including your upper and lower the teeth, and roots, sinus cavities, jawbone structures, and more. This lets us identify areas of concern, and plan treatment to ensure smile improvement with precision and accuracy.
CBCT Technology
For three dimensional images of your head, mouth, and oral structures, we could employ cone-beam computed tomography, or CBCT. These images let us identify impacted teeth, plan and implement implant placement, and avoid major nerves or sinus cavities during oral surgical procedures. The system also uses less radiation than a traditional medical CT scanning system.
What Happens Next?
Once we've taken these images and chosen the right treatment for you, we will discuss this process in great detail. We will look at your medical history and prescribe the most effective means of sedation, and let you know what to expect. We then complete the procedure, and send you home with detailed aftercare instructions and prescribed medications to help facilitate a complication-free healing period! If you have any questions, give our team a call.
Do You Have Questions About Digital Diagnoses?
We want to make sure you obtain quality care, which is why we examine your smile with advanced digital systems. To learn more about planning your treatment with precision and accuracy, then schedule a consultation by calling Santa Rosa and Rohnert Park Oral Surgery in Santa Rosa, CA, today at 707-545-4625.