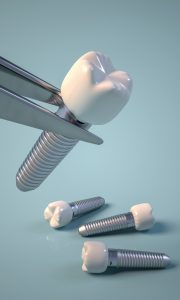 Dental implants don't just preserve your jawbone structure and fill the gaps caused by tooth loss, they also help preserve your natural tooth structure! In today's blog, your Santa Rosa and Rohnert Park, CA, oral surgeons will explain the benefits of implant dentistry, and how they can last for years and help protect your smile!
The Placement Process
Dental implants are unique in that they don't need to be attached or fixed to any other natural teeth. No clasps, adhesives, crowns, or suction required at all. Instead, our team will employ advanced digital scanning systems and x-rays to plan and guide the placement of biocompatible titanium posts into the jawbone. The implant post then bonds with the one tissue through a process known as osseointegration. This halts the breakdown of mass and density in the jaw that follows even minor tooth loss. As a result, your new roots provide a more stable and durable base for one or more missing teeth.
No Need for Abutment Teeth
When you receive a bridge, this typically means that substantial amounts of structure need to be removed from the teeth on either side of the gap in your smile. The crown portions of your bridge will be attached to the abutment teeth, securing your new teeth firmly in place. But with dental implants, we attach crowns to these freestanding posts instead, which preserves your natural tooth structure. Since the roots also stimulate the growth of bone tissue, this means your prosthetic doesn't need to be replaced as the jaw ridge changes shape. Instead of a bridge that lasts for 10 years, you have one that could stay in place for decades, maybe even a lifetime. As a result, you have a more stable and lifelike replacement option.
The Individual Crown
When we place one dental implant, a crown will act as the new visible portion. Crafted from durable and lifelike materials, we will shape it to blend with your smile. We also use this for bridges and prosthetics, ensuring a lifelike set of teeth will be attached to your new implants and improve the function of your smile. If you have any questions about implant dentistry, or if you have one or more missing teeth, then let us know. You can schedule a consultation so we can discuss your options and help you find the right choice for replacing your lost teeth. A full smile is possible, so don't delay!
Do You Have Questions About Dental Implants?
Replacing missing teeth offers a chance to protect and preserve your smile for years to come! To learn more about the benefits of implant dentistry, then schedule a consultation by calling Santa Rosa and Rohnert Park Oral Surgery in Santa Rosa, CA, today at 707-545-4625.