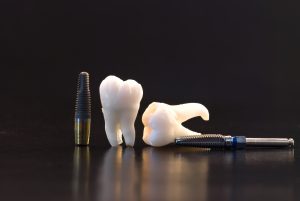 When you have dental implants placed, particularly to prepare smiles for a set of fixed dentures, then one or more teeth may need to be extracted. In today's blog, your Santa Rosa and Rohnert Park, CA, oral and maxillofacial surgeons explain how we perform a general extraction safely and comfortably to make your smile ready for fixed implant dentures.
Preparing Your Smile for Dental Implants
When you lose the vast majority of your teeth, then a dental bridge or a partial denture may not be enough to restore function and beauty to your smile again. Instead, you may need a complete set of dentures. For improved stability, appearance, and longevity, we don't offer removable dentures. Instead, we support them with dental implants so they're fixed in place. But first, we may need to remove the remaining few teeth to clear a path for your new and lifelike smile.
The Dental Extraction Process
The process is simple and for some, could only take about 30 minutes. First, we will examine your smile and gather detailed CT x-ray images, so we can gently remove teeth and avoid sensitive sinus cavities and nerve tissues. Next, we administer a local anesthetic and a numbing agent to keep you calm and comfortable. Afterward, we will use forceps to carefully and gently remove the teeth in question. We may place a medicated material on the extraction site, and could suture the area closed. The area will need to heal for a day or two, at which point we will remove any sutures.
Moving Forward
Once your smile is ready, we will use digital CT scans and surgical guides to plan and guide the placement of your new dental implants. For some, this could mean six to eight posts per arch. If you have weakened jawbone structure, we could also support dentures on as little as three to four posts. For some, we will also attach the denture to the posts in the same visit, so you leave with a completed and fixed prosthetic. You will be able to smile with confidence, eat your favorite foods again, and enjoy a smile that has the potential to last a lifetime with proper care and attention.
If you have any questions about how we replace missing teeth with an implant option, then contact our team today. A full smile is possible!
Do You Have Questions About General Extraction?
Our team wants to make sure we prepare your smile for securing a set of implant dentures. To learn more about how we get your smile ready for durable and lifelike dental implants, then schedule a consultation by calling Santa Rosa and Rohnert Park Oral Surgery in Santa Rosa, CA, today at 707-545-4625.