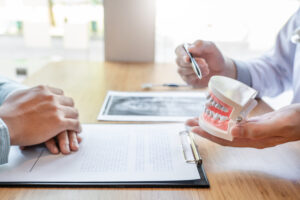 When you're getting ready for oral surgery, such as a bone grafting procedure or dental implant placement, you may wonder what will happen during your visit. In today's blog, your Santa Rosa and Rohnert Park, CA, oral and maxillofacial surgeons talk about what you can expect from your procedure, and what happens afterward.
Getting Ready
The procedure will be performed in our office, and when you arrive we recommend wearing comfortable and loose fitting clothing. We will have provided pre-surgical instructions, such as avoiding foods and drinks for eight hours beforehand. Take any pre-medication we recommend, and arrange for a friend or family member to bring you home afterward.
Sedation
We will give you special medications, either via nitrous oxide, pills or liquid, or in some cases, an IV. This will help you enter a deep state of calm and relaxation. You may even sleep through the process. If you are awake, then you won't feel any discomfort, just gentle vibrations as we treat your smile. The grogginess and numbness may take time to wear off, which is why we suggest having someone on hand to bring you home afterward. No matter what, we will take steps to ensure you feel comfortable and relaxed.
The Procedure and Aftercare
The length of your visit will depend on the complexity and what procedure we're performing. For example, tooth extraction and dental implant placement could be relatively quick procedures. While bone grafting, sinus lifts, and facial trauma treatment could be more involved and take a longer amount of time. We will let you know so you and your ride can prepare for the visit. To help keep your companion occupied, we have coffee, water, and free Wi-Fi. When the process ends, we will send you home with prescriptions for medications and detailed instructions to ensure a fast and complication-free healing period. If you have any questions about our approach to oral surgery, or if you have an issue that needs immediate attention, then talk to our team. We're ready to work with you, and your general dentist or orthodontist, to ensure you enjoy quality treatment that helps you obtain a healthy and attractive smile.
Do You Have Any Questions About Our Surgical Options?
We use surgical treatments to help transform your smile and improve overall oral health. Our oral surgical procedures could prevent wisdom tooth impaction, replace missing teeth, or even rebuild a smile that has lost mass and density following tooth loss. We want you and your family to maintain your best possible smile! To learn more about what happens when you're undergoing oral surgery, then schedule a consultation by calling Santa Rosa and Rohnert Park Oral Surgery in Santa Rosa, CA, today at 707-545-4625.