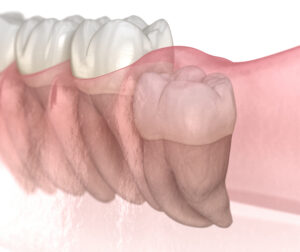 When you or a family member approaches their adult years, this could mean the arrival of additional teeth. These new teeth, known as wisdom teeth or third molars, could cause serious trouble for your smile. Which is why we recommend a gentle tooth extraction! In today's blog, your Santa Rosa and Rohnert Park, CA, oral surgeons talk about removing wisdom teeth.
The Eruption of Your Wisdom Teeth
In our late teens and early 20s, up to four new teeth could erupt in the rear of our mouth. Known as wisdom teeth, they often cause major complications as there is rarely room for them. The result is a painful partial eruption known as an impaction, as well as dental misalignment, infection, and discomfort. This could cause negative impacts on the beauty of your smile and later the function and health as well. But by taking them out, preferably before they even erupt, you can maintain your smile and avoid these issues.
Keeping Your Comfortable
Our team always takes measures to ensure every visit and procedure is a comfortable one. In addition to offering a local anesthetic, we also have dental sedation. This helps you enter a calm and relaxed state, with little to no memory of the procedure at all. We have nitrous oxide, oral sedation, and IV sedation. For some, the effects take time to wear off so a friend or family member should be available to bring you home. We will also monitor you throughout, and our team is trained in the administration of anesthetic and sedation, and have provided these in hospital settings too.
Tooth Extraction
Once you're calm and comfortable, our team will gently extract the tooth or teeth in question with a pair of forceps. Once we do, we will offer special medications to preserve the extraction site. At home, you will need to rest for at least a day, and avoid solid foods and straws in that time as well. Don't use tobacco products, and take any prescribed medications as instructed. We will monitor your healing in a follow-up visit. While removing wisdom teeth doesn't require tooth replacement, if we treat a tooth due to injury or poor oral health, we could discuss dental implants to fill the gaps in your smile. If you have any questions about tooth extraction or if you would like to find out if you need your wisdom teeth removed, then contact our team today.
Do You Have Any Other Questions About Extracting Teeth?
We would love to help you enjoy a healthy and functional smile with oral surgery. If you would like to learn more about how we address the arrival of your third molars, then contact your Santa Rosa, CA, oral surgeons by calling 707-545-4625.