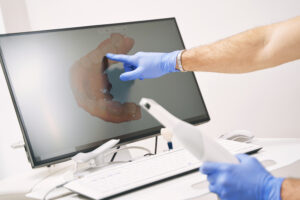 Our team offers oral surgery to help address major concerns in smiles for kids, adults, and seniors. From replacing missing teeth with dental implants, to general extractions or even rebuilding smiles with grafting and sinus lifts. But to do so successfully, your Santa Rosa and Rohnert Park, CA, oral surgeons employ digital technology to plan the procedures.
CBCT Imaging
When planning a complex treatment option, we will need to obtain digital images of the entire smile, including your teeth, jaws, and facial structure. This is especially true if we're treating facial trauma, or rebuilding weakened jawbone structure with grafting or sinus lifts. With cone beam computed tomography, or CBCT, we obtain detailed 3D images of your smile from multiple angles with a fraction of the radiation that most x-ray imaging systems use. This can be used to prepare a smile for surgery, so we can choose the most appropriate angles for dental implant placement, or if we need to assess the strength of the jawbone prior to placement. We can also avoid sinus cavities and nerve tissues during surgery too.
Digital X-Rays
We also take panoramic x-rays of your smile, so we can see the sinuses and the teeth in the upper and lower arch for your smile. This can identify the position of impacted or malpositioned teeth, so we can place extraction or even tooth replacement with dental implants. To take the images, you will place your chin on a special chin rest while a machine circles your head, obtaining a panoramic image of the interior of your mouth. This uses 90% less radiation than traditional systems, and the images will be available instantly chairside, so no need to wait for a lengthy development period using harsh chemicals. This process is also shorter than traditional ones, limiting your time in the chair!
See Us Soon!
If you have a serious issue, such as tooth loss or an impacted tooth, then contact our team today. There is still time to see us for treatment before the hectic holiday season begins. Just give us a call to schedule your next appointment. If you have dental insurance benefits or a health savings account, then you have benefits and funds that need to be used before they expire at midnight on December 31st. You can put these to use and ensure you greet 2023 with a stronger and more attractive smile. If you have any questions about our treatment options and the technology we use, then contact our team today.
Do You Have Questions About Planning Your Oral Surgery?
Our team wants to help you undergo oral surgery that restores the function, beauty, and health of your smile. If you would like to learn more about our advanced technologies, then contact your Santa Rosa, CA, oral surgeons by calling 707-545-4625.