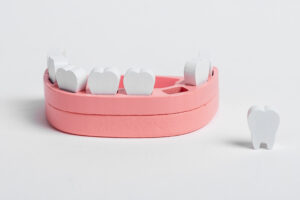 Our team can help people of all ages in our community, from kids and teens to adults and seniors. Oral surgery can address problems too severe for a general dentist or orthodontists, although we often work alongside them to ensure a seamless treatment transition. In today's blog, your Santa Rosa and Rohnert Park, CA, oral surgeons talk about transforming smiles with oral surgery.
Addressing Tooth Loss with Dental Implants
When you lose teeth, the body will begin to suspend or divert the flow of calcium and phosphates to the jawbone. Without the nutrients, the resulting loss of mass and density could lead to further tooth loss and an aged appearance. Fortunately, our team can help halt this process with a tooth replacement that preserves your jaw. Dental implants are surgically inserted into the jaw, acting as new roots and stimulating the growth of jawbone tissue. Your new teeth preserve your smile and have the potential to last for decades to come. We can address a single missing tooth, or support a bridge or denture. With All-On-Four, we can preserve your ridge and support dentures with just four posts, and placement and restoration could take only one visit.
Rebuilding the Smile with Grafting and Sinus Lifts
What if your jaw has already lost a significant amount of jawbone tissue by the time you see us for treatment? If we find you don't have enough jawbone structure to support your new teeth, we could essentially rebuild what has been lost. For the lower jaw, our team could use grafting to add new tissue to the area, in the form of bone tissue taken from your jaw or hip, or from a donor source or using synthetic materials. Once the area heals, it can support new teeth. With the upper jaw, we could raise the sinus floor to uncover new bone tissue, preparing your smile to receive multiple dental implants.
General Extractions
We could also use oral surgery to remove teeth that threaten your oral health. For example, ones too damaged or decayed to be addressed with a crown. We could also extract teeth to aid in orthodontic treatment, or to prepare a smile to receive a full set of dental implant dentures. We could also use this to address wisdom teeth, removing these additional molars before they erupt and alter the appearance, health, and function of your smile. The process takes as little as 30 minutes, and we take measures to ensure you're comfortable throughout the procedure!
Jaw Surgery
What if you have a jaw that is uneven or injured? To treat facial trauma and restore the balance of your bite, we can use surgery to improve overall bite function and balance. This helps boost the appearance of your smile and prevents you from suffering major discomfort down the road.
Bracketing Impacted Teeth
If a tooth is partially erupted, known as an impaction, we could gently move it into proper position, often as part of your orthodontic treatment. Bracketing makes this possible, so the tooth can be restored instead of removed.
Our Technology
Throughout your oral surgery, our team will employ advanced imaging technology. Digital x-rays and CT imagery enables our team to take detailed images of your smile as a whole, including the teeth, roots, jaws, oral structures, and more. We can plan treatment with detail to avoid sinus cavities and nerve tissues.
Anesthesia and Sedation
We know people may feel a little anxious about undergoing oral surgery, which is why our team can help with dental anesthesia and sedation. Anesthetic helps target the areas being treated to ensure the experience is a comfortable one, numbing the teeth and tissues being treated. To help you enter a calm and relaxed state, we could offer sedation. Nitrous oxide, oral, and IV sedation help you feel calm with little to no memory of the procedure at all. Our team is licensed and board-certified in the administration of sedation, and we have experience with surgery in both hospital and dental settings.
If you have any questions about how we can restore the beauty, function, and even the overall health of your smile, then contact our team today to learn more.
Do You Have Questions About Improving Your Smile's Function?
We're ready to help people of all ages enjoy improved smiles for years to come. If you would like to learn more about how we approach jaw surgery, then contact your Santa Rosa, CA, oral surgeons by calling 707-545-4625. If you have gaps in your smile, then see us right away for replacement!