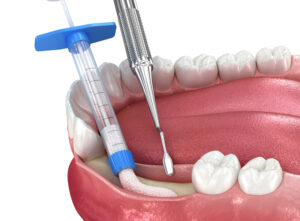 When you lose your natural teeth, a complication could arise that prevents you from receiving dental implants. This is the loss of structure in your jaw, which weakens your smile and leads to further tooth loss. Fortunately, your Santa Rosa and Rohnert Park, CA, oral surgeons can strengthen your jaw with grafting.
How Tooth Loss Weakens Your Jaw
When the body takes notice of your missing tooth roots, it suspends the flow of calcium and phosphates to the area around the missing roots. Without these key nutrients, the bone tissue begins to weaken and gradually breaks down. This loss of mass and density in the jaw could mean further tooth loss and for some, a prematurely aged appearance too. If you want to receive dental implants to enjoy a long-lasting and lifelike solution to tooth loss, your weakened jaw could mean there simply isn't enough tissue to support new roots. But we can strengthen your jaw with jawbone grafting and sinus lifts!
The Procedure
With the grafting procedure, also known as a ridge augmentation, we will apply new tissues to the weakened portions that creates a matrix to encourage the growth of new tissues, strengthening your smile and leaving it strong enough to support dental implants. Once we place the implants, this helps preserve your new structure. The new tissue could be taken from the rear of your jaw or your hip, or from donor or synthetic sources too. Our team will carefully plan the procedure in detail with CBCT imagery and digital x-rays, so we can ensure optimal results. Our team will also administer a local anesthetic to the area being treated, and we can also offer sedation to ensure you enter a calm and relaxed state, with little to no memory of the procedure afterward.
Sinus Lifts
A sinus lift could be helpful too! The ridge augmentation is meant for the lower jaw, but if you've lost structure in the upper portion, we can use the sinus lift to essentially lift the sinus floor and uncover new tissues to support one or more dental implants, even a set of implant dentures. No matter how severe your tooth loss currently is, we're ready to help with oral surgery and advanced technology. If you have any questions about how we treat issues like tooth loss and weakened structure, then contact our team today to learn more.
Talk To Your Santa Rosa, CA Oral Surgeon About Oral Surgery
Our team is eager to help you enjoy a smile that can support dental implants, so you can smile with confidence again. If you would like to learn more about the ridge augmentation procedure, then contact your Santa Rosa, CA, oral surgeons by calling (707)545-4625.