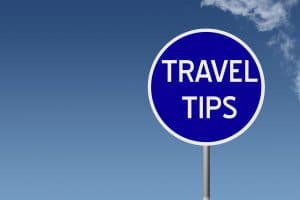 When you plan on heading out for your holiday traveling, you may want to take just a moment to gather your thoughts. In addition to all of the other details and arrangements you need to make, you will also need to remember to prepare for your oral health while you're away. How to do that, exactly, so your smile stays in one piece and comfortable condition? Follow some of your oral surgeon's tips, of course!
Tip: Watch For Ice
Heading out of California for cooler temps? Remember that other lands might not be quite as easy to navigate. If you're headed to a relative's home, for instance, in an area where there's snow and ice, you'll need to be careful. Step carefully and take shoe suggestions to heart from relatives, so you don't slip and fall, recommends your oral surgeon.
Tip: Bring What Your Smile Needs
Got the gifts for immediate and extended family, boyfriends, girlfriends, and more? Check. Got the clothes and PJs you plan on wearing? Check. Why aren't your dental care products on the top of your list? Well, since they're not, we remind you to at least include them on your checklist as you pack. When you show up to enjoy holiday time without a toothbrush, the floss you love, your storage case for your partial denture, etc., it can really throw a wrench in your plans.
Tip: See Our Team First
Have you been worrying about your dental implant lately because something just feels a little uncomfortable? Thanks to the ways problems progress, you might find yourself very uncomfortable once you're at your destination if you don't care for the problem immediately. Your oral surgeon suggests you avoid this possibility by setting up an appointment before you go.
Schedule Time To See Us When You Need It!
Don't hesitate to schedule your dental visit. Instead, see us as soon as you can, so your smile is safe. Schedule the time you need in Santa Rosa, CA by calling Santa Rosa and Rohnert Park Oral Surgery at 707-545-4625 to schedule your visit today.