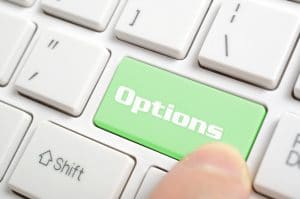 You may have heard that implants are very versatile because they work for just about anything when it comes to missing teeth. When this news reaches you, it brings excitement and some relief, of course. What you still need to become aware of, however, is what this really means. For an easy way to take in some organized information about your dental implant options, we offer you a quick run through of the basic lineup of questions and answers! 
How Many Teeth Can I Replace?
You can replace any number of teeth. Really. You can replace one tooth, two teeth, a handful of teeth, one arch of teeth, two arches of teeth, one tooth on top and a full arch on the bottom … you see what we mean? Thanks to a multitude of dental implant options, you will not find yourself without a solution due to the number of missing teeth or the way they are configured in your smile.
What Can Single Implants And Crowns Do?
Single implants and crowns are the solution within your dental implant options that allow you to replace any number of teeth, one by one.
What's An Implant-Supported Bridge Or Denture Do?
Perhaps you want to replace a few teeth or a complete arch of teeth. While you love the idea of doing so with single implants and crowns, it may not be something that works for you. It may be too pricey, your jaw may not be in the best shape, or you want a quicker solution. Instead, you may rely on a strategic amount and placement of implants that will give a bridge or a full denture fantastically stable support. This way, you don't rely on teeth or gum tissue but implants to support your prosthetic, which replace multiple teeth all at one time. 
Replace Teeth With One Of Many Dental Implant Options
Keep in mind that as your exploration into dental implants begins, you have many options available to you! Find out additional details by asking during an appointment. Schedule the time you need in Santa Rosa, CA by calling Santa Rosa and Rohnert Park Oral Surgery at 707-545-4625 to schedule your visit today.