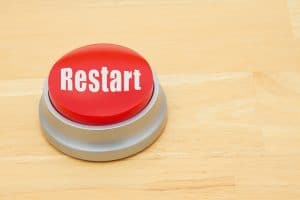 There are so many ways to look at dental implants, which is why our Rohnert Park, CA team talks about shifting your perspective quite frequently. While we can get quite complex or abstract about it, we can also offer a very simplified suggestion: Just think of choosing implants as a choice that's similar to hitting the "restart" button on anything that isn't working. What's a "restart" get you? Well, it clears everything that's been happening and puts you back to a previous moment (think about restarting a video game, your computer, etc.). Why not enjoy this exceptional benefit for your smile, which lets you return to a better time when your grin was complete, completely functional, and looked lovely?
Your Smile's Appearance Goes Back In Time
When you take a look in the mirror, you see the open spaces in your smile. This may or may not be something that bothers you. However, when you close your eyes and think back (or take a look at older photos) of your smile before tooth loss and potentially before any tooth damage, it's a different smile. Do you miss it? When you choose dental implants and restorations with us, you're hitting restart! You'll be seeing that familiar smile again very soon.
Your Jaw Health May Get A Refresh
When you had all of your teeth, your roots were keeping your jaw health safe. Once periodontal disease, other problems, or even just accidental tooth loss took over, your jaws weren't receiving that all-important root-based stimulation anymore. Fast forward to today: You need a root replacement to give your jaw tissue its protection back! Hit restart: Choose implants.
It's Back To Life As You Previously Knew It
You may not realize just how powerful dental implants can be until you've realized that you have been without some privileges that you used to enjoy. Maybe this has been going on for 10 to 20 years! Remember, with the help of oral surgery (such as jawbone grafting and sinus lifts), the placement of implants, and beautiful lifelike restorations, you can find yourself at the end of your implant experience with the smile you used to know. Along with it comes the way you used to enjoy your life, with the freedom of eating and speaking without worry or constraints. It truly may feel akin to pressing the restart button on your smile!
Get Your Smile Healthy And Whole Again With Implants
Don't overlook the exceptional power of dental implants to get your smile back to a place of completion and function that you have been missing. Schedule the time you need in Rohnert Park, CA by calling Santa Rosa and Rohnert Park Oral Surgery at 707-584-1630 to schedule your visit today.