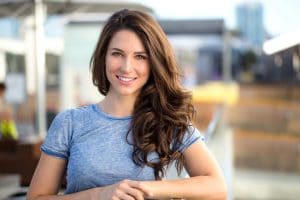 The details that surround your appearance once you receive dental implants are very important to you! They are what directly impact the way your smile will look, how you will feel about your smile, what you will look like to yourself and others, and this can have a very serious influence on your self-esteem! So, if you've been thinking things over and wondering about the tiniest of particulars, trust us when we say that our Santa Rosa, CA team understands! We would also love to explain some of the less commonly discussed aspects regarding the esthetic benefits you may look forward to when you select implants!
Others Won't See the Posts
You may not fully understand what your smile will look like once you receive dental implants and restorations. There may be a moment during which you think to yourself, oh my goodness, will the implant posts be visible? We can happily reassure you that the answer to this question is no! Remember that we will use an abutment (a connecting device) atop the implant, which will act to secure your restoration over the implant and flush against your gum tissue. When you smile, it will just look like you have a natural tooth in place, as the implant is hidden.
Implants Don't Require Support From Natural Teeth
Take a moment to think about what a traditional dental bridge looks like or a partial denture. Depending on the particular prosthetic, sometimes you can see a line along one's gumline or you can see a clasp that is relying on nearby teeth for support. When you receive dental implants, keep in mind that they are completely independent and fully support the restoration placed over them. They do not require additional help from nearby teeth, so there will be no evidence that you have a prosthetic in place.
All Restorations Remain Firmly In Place
You may think that if you are going to receive a removable restoration, such as a denture that goes in and out of your mouth, that is supported by dental implants that you are looking at a lack of stability. You may wonder about fixed restorations, such as crowns. Will they wobble, wiggle, slip, or move? Thanks to the construction of implants and restorations, you can expect for them to remain firmly in place, whether removable or fixed, for a smile that looks and feels natural!
See Us For Beautiful Teeth Replacement
As you realize you are ready to replace the teeth you have lost in your smile, we remind you that we are an oral and maxillofacial surgery practice offering a comprehensive selection of dental implant services. Schedule the time you need in Santa Rosa, CA by calling Santa Rosa and Rohnert Park Oral Surgery at 707-545-4625 to schedule your visit today.