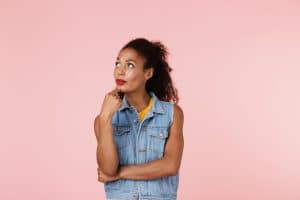 When you've got the itch to go ahead and follow through with what you want (which is to come in for dental implants), you may find yourself at an impasse. You don't know which way to go, so you just don't replace your teeth or do anything about it. Why is this? Well, for many of the patients we see, there is some conflict in terms of whether it's the right choice. Of course, as it goes for everyone, when the only perspective you have is your own, giving yourself the motivation you need can feel like too much! So, today, our Santa Rosa, CA team suggests you consider what you would tell your best friend in such a situation for helpful insight!
Follow Your Heart, Friend!
When you first enter into a conversation about dental implants with a best friend who is considering them, chances are good you'll immediately just want what will make your friend healthy and happy. The result? You will probably say something to the effect of, "Just follow your heart!" Sure, there's a bit more involved when it comes to matters of oral surgery but this is something to apply to your own thinking.
Do What Will Work In The Long Run
Now, for a bit of logic. One of the things you would probably bring up with your closest friend as you discussed dental implants over other possible tooth replacements will be the longevity of the choice. Is this going to last? Or, is this just a quick fix, so to speak? We remind you that what you want is for your friend to make a wise investment that limits complications and the need for further care in the future. This is probably because it is what you want for yourself (and implants offer it).
Weigh The Benefits Versus Any Drawbacks
Just as we usually remind patients, it's perfectly wise to go ahead and weigh out your feelings in a logical format by considering the benefits and asking yourself if there are any drawbacks that you can see to choosing dental implants. So, chances are good that you would tell your friend to go ahead and draw up a pros and cons list. It helps take you away from getting too lost in your emotions and puts a quantitative perspective on what we assume will be a very long list of advantages. Then, by considering the weight of any "negatives," the decision becomes much easier.
Gain New Implant Insight
Visit our oral surgery practice when the idea of dental implants crosses your mind and you feel they may be a suitable selection for yourself! You will likely find that they offer amazing benefits for your tooth replacement! Schedule the time you need in Santa Rosa, CA by calling Santa Rosa and Rohnert Park Oral Surgery at 707-545-4625 to schedule your visit today.