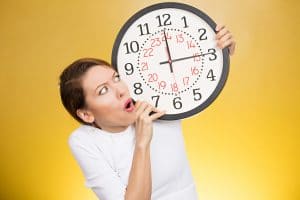 When you're short on time but you've got big dreams for your smile, remember that it's always best to follow through on exploring your options, particularly when your goal is tooth replacement. Of course, it's possible that you may determine that your schedule just isn't going to permit exactly what you had in mind for your tooth loss. However, the good news is that in most cases, you will find that you can still choose dental implants but that you'll just have to take a different route than you were expecting! For more information, visit with our Santa Rosa, CA team as soon as you can!
Come In As Soon As You Can
When you don't have a lot of time, whether that means you have a deadline coming up that you have imposed for yourself, you have a packed schedule soon and you won't have much time for smile care, or your schedule is already quite hectic, one thing will always be true: You should visit our team to learn more about dental implants for yourself as soon as you can. When you wait, you use up valuable time (and you may even use this time worrying about your smile). So, let us know when you can see us and schedule an implant consultation. That way, if you need to begin care ASAP, you're better situated to do so.
Consider Accelerated Solutions
Now, remember, you may have some ideas about exactly what you want for yourself in terms of your smile and tooth replacement. However, we may discover, for instance, that instead of providing you with traditional implants and crowns, what will work best for your schedule is something like All-On-4. This is an accelerated way to replace missing teeth that will frequently allow patients to receive their implant posts and to have them restored all at once. When you take just a bit of time to talk with us and discover the different ways we can approach replacing teeth, it makes doing so in a way that works for you much easier!
Work On Your Scheduling Options With Us
Again, we know that you may think you have it all figured out but we remind you that when you're having some issues with scheduling and you feel like you don't have time (but you really want dental implants), it is to your benefit to talk with us. We may have some expertise in handling such particulars that you didn't realize we could provide!
Consider Your Implant Options By Seeing Us
Rather than making assumptions at home, which can cause you to assume dental implants won't work for you, do the opposite! Come in to meet with our team, so you can learn about your many options! Schedule the time you need in Santa Rosa, CA by calling Santa Rosa and Rohnert Park Oral Surgery at 707-545-4625 to schedule your visit today.