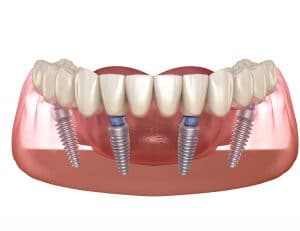 Tooth loss can be difficult for many individuals. Not only does it affect your smile's appearance, but the functionality is compromised as well. When you are missing a tooth or even multiple teeth, the gaps can affect the balance of your bite. Additionally, the lack of a root also prevents your jawbone from its purpose of providing support, thus weakening its integrity and causing deterioration. That being said, what does this mean for individuals that have lost all of their teeth? Fortunately, the oral surgeons at Santa Rosa and Rohnert Park Oral Surgery in California provide a solution that not only helps restore your bite and protect your jaw but is less extensive than traditional implants. This process is known as an all-on-four procedure.
Eliminates Extensive Steps
In the past, the standard procedure for implant-secured dentures included multiple titanium posts, a great deal of bone grafting, and a significant amount of healing time before having a smile that could perform and function properly. Since then, the practice of using an All-On-Four technique has cut down on excessive healing time and grafting procedures. This technique offers the strategic placement of four posts into the jawbone that the denture is then secured to. In some circumstances, patients can have teeth extracted and posts placed all in the same day.
Provides a Secure Placement
Not only does this technique reduce the amount of heal time and level of bone grafting, but it also provides a secure placement for your dentures that improves overall functionality. Traditional dentures are created and secured to the gum lines with a dental paste that is not necessarily always effective in securing the appliance. Implant-secured dentures, however, allow the denture to click into place in the mouth and offer a fixed bond between the gum line and denture.
Custom Designed for Your Comfort
When beginning the procedure for the All-On-Four technique, we first perform a thorough consultation and 3D scan of the jaw and oral structures so as to provide a careful and accurate render for your restoration, ultimately keeping your functionality and comfort in mind. We take care to go through every step of the procedure with you during the consultation to ensure you are aware of the process, and we also will discuss the cost. Once your procedure is complete, you will need to eat softer foods during your recovery time and may experience some discomfort as the jawbone heals and bonds with the titanium posts. For more information about the All-On-Four procedure, contact our office today.
Learn More About Your Denture Options Today
At Santa Rosa and Rohnert Park Oral Surgery, our team is dedicated to providing the dental implant or other restorative oral procedure that works best for you, preserving your smile and restoring its functionality. To schedule an appointment with our California oral surgeons, contact our office by calling 707-545-4625 today.