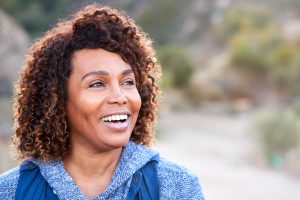 Dental implants help patients who need prosthodontic work regain more than just their appearance. The added support of an implant will help you bite and chew with confidence, and ensure that your restoration stays in place permanently. Unfortunately, not everyone is ready to go through treatment to receive implants. In some situations, a sinus lift or jawbone grafting procedure will have to take place to make sure that you can enjoy support for your implant (or implants). You can count on oral surgery at our Santa Rosa or Rohnert Park, CA office to give you the support you need to complete work to regain your full smile!
Some Patients Are Not Ready To Receive Their Dental Implant
Losing teeth means more than just losing confidence in your smile. In addition to affecting your bite function, and making you vulnerable to losing more teeth, this problem can lead to the deterioration of jawbone tissues. When you wait too long to schedule treatment to restore your smile with implant-held restorations, you can find that you need work to ensure that your bone tissues can safely receive your implants.
Planning Your Jawbone Grafting Or Sinus Lift
Jawbone grafting procedures and sinus lifts help prepare patients for treatment to regain their complete smile. These services provide support after your tissues have deteriorated, giving them more stability and strength so that your implant placement procedure is a success. At the right time, you can return to see us to complete work to give you back your full smile.
What To Expect After Receiving Your Implant-Held Prosthetic Appliance
Dental implants give patients back their ability to bite, chew, and speak with confidence. The implants themselves are not the restorations themselves, but small titanium posts that hold restorations in position. They can do more than just keep your prosthetic appliance secure enough to stay in place when you bite and chew. They actually protect against the loss of bone density by stimulating surrounding tissues. This ensures that your body continues to send nutrients to the bone and keep it from deteriorating.
Enjoy Important Prosthetic Services At Our Santa Rosa And Rohnert Park, CA Offices
For a person who has suffered tooth loss, a grafting procedure may be necessary before they can go through treatment to receive dental implants. When necessary, our practice can help you prepare for a successful treatment by providing a jawbone graft or sinus lift! These services add important support so that an implant will stay in place, and so that your bone can recover and remain healthy. If you have questions about this service, or if you have any other questions about oral surgery, please contact your Santa Rosa, CA, oral surgeons by calling 707-545-4625.