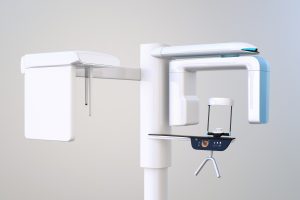 Our team of oral and maxillofacial surgeons offer a wide range of treatment options for smiles of ages. For example, we can address tooth loss with implant dentistry, prevent wisdom tooth impaction with an extraction, and treat facial trauma! To plan and implement this care with precision and accuracy, your Santa Rosa and Rohnert Park, CA, oral surgeons may suggest digital imaging technology. In today's blog, we're going to explain how we use Cone Beam Computer Tomography (CBCT) to plan and oversee your treatment.
CBCT Technology
We use the Cone Beam Computed Tomography (CBCT) system to carefully complete a full exam of your smile, above and beneath the gum tissues. Our team gathers images of your teeth, roots, oral structures, jaws, and more. The images help us make a diagnosis with accuracy and precision, and then plan your treatment process to avoid any sensitive nerve tissues or sinus cavities.
The 3D images are incredibly detailed, and taking them uses a fraction of the radiation employed by traditional x-ray systems. The images will also be available instantly chairside, so you don't need to wait on their development. In fact, we could walk you through the diagnostic process and answer your questions, all while you glimpse detailed digital images of your smile and possible problem areas. We would love for you to walk away with a better smile, and a better understanding of your oral health.
Completing Your Procedure
The technology helps us better plan the extraction of a tooth, or address impacted teeth. We also plan and guide the placement of dental implants, or help prepare for jawbone grafting or sinus lifts. We also provide treatment for injury and facial trauma with greater detail. Whether you have an injury or missing tooth, or if you need a tooth extracted, then we can help.
Aftercare
Planning and implementing the treatments with digital technology means treatment is done with greater accuracy, so your smile will heal faster with a significantly reduced risk of infection or other complications. You will be able to return to normal activities sooner, and enjoy a full and healthy smile once again. If you have any questions about how we approach your oral surgical procedure, or if you would like to schedule an exam with CBCT technology, then please contact our team today to learn more. We would love to see you and your family for your oral health needs!
Ready to Schedule Your Next Visit?
We're ready to help you enjoy a complete and beautiful smile again, and to do so with the use of advanced technology. To learn more about how we treat common oral health issues, then schedule a consultation by calling Santa Rosa and Rohnert Park Oral Surgery in Santa Rosa, CA, today at 707-545-4625.