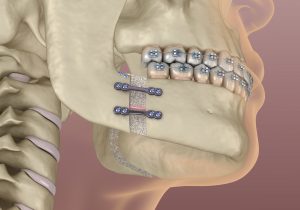 When you suffer an injury, or issues with the growth and development of your face and jaw cause complications, you may need surgery to restore balance, health, and beauty. To accomplish this, your Santa Rosa and Rohnert Park, CA, oral surgeons could recommend orthognathic surgery, also known as jaw surgery.
The Problems Your Jaw Could Face
For some, complications could arise as their jaw grows and develops. Soon, these complications could mean poor bite balance and strained jaw joints, leading to painful disorders like TMD and even bruxism (chronic teeth grinding). The imbalance could also cause problems for how people eat and speak, and could lead to dental misalignment. For others, an injury or accident could damage the jaw, causing fractures and breakage that impact appearance and how well the bite fits together. Unless treated, these issues could continue to cause complications and discomfort, leading to poor oral health and even a poorer quality of life.
How We Plan Treatment
Surgery could be used to correct a wide variety of issues with the appearance, function, and health of your smile. To begin, we need to diagnose the issue with precision and accuracy. Digital imaging technology, from digital x-rays to CBCT technology, lets us capture highly detailed images of the jaw and joints, so we can plan surgery to correct issues and avoid is necessary and nerve tissues. We use these technologies to guide this surgery, and with sedation and anesthesia we can ensure you're comfortable through the entire process.
Preparing Your Smile for the Next Step
Corrective orthognathic surgery could help restore the appearance of your smile, and improve how you eat and speak. We could use synthetic issues and bone tissues taken from other parts of your body to rebuild damaged portions, and use bracketing and other systems to guide the growth and development of the bone tissues too. We can replace any lost teeth with dental implants, which provides a full smile and stimulates the growth of healthy bone tissue too. Once the procedure is over, we will have detailed aftercare instructions. An orthodontist may continue care with small fine corrections to address esthetics. If you have any questions about how we approach corrective orthognathic surgery, or if you need to schedule a consultation to find out if this procedure could help you, then contact our team today to learn more.
Do You Have Questions About Orthognathic Surgery?
Our team wants to help you continue to enjoy a healthy and properly functioning jaw, so your smile remains strong and full for years to come. To learn more about our approach to oral and maxillofacial surgery and ensuring patient comfort, then schedule a consultation by calling Santa Rosa and Rohnert Park Oral Surgery in Santa Rosa, CA, today at 707-545-4625.