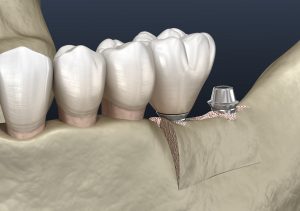 When you lose mass and density in the jawbone to tooth loss, this could alter your smile's appearance and even your overall facial structure. Not to mention the complications for dental implant placement. In today's blog, your Santa Rosa and Rohnert Park, CA, oral surgeons explain how we rebuild smiles and strengthen them with ridge augmentation.
The Loss of Jawbone Density
When you lose natural teeth, the body will; take note and no longer send doses of calcium and phosphorus to the area of the jawbone around the lost teeth. Without these nutrients, the bone tissue loses mass and density and breaks down. Over time, this could mean further tooth loss and an aged appearance.
The Complications for Dental Implants
Losing teeth means embarrassing gaps in your smile, an increased risk of misalignment, and trouble eating and speaking without difficulty. Dental implants could create a lifelike replacement option that lasts for decades to come, possibly even a lifetime. However, losing mass and density means there may not be enough jawbone structure to support a dental implant, so your new tooth could fail. To make your smile ready for dental implants, and to prevent further complications due to tooth loss, you may need a jawbone grafting procedure.
The Grafting Process
First, we will take detailed digital x-ray images to identify the presence of nerve tissues and sinus cavities, so we plan your ridge augmentation with detail. We administer a local anesthetic and sedation to help you feel calm and relaxed. We then open the area of the gums and apply bone tissue taken from the back of your jaw or form your hip. Synthetic materials could also be used. The materials bond with the smile and fortify your jaw. When dental implants are placed, this stimulates the growth of bone tissue to protect your new smile and prevent further loss of mass and density. We use this procedure for the lower arch of the jaw, but we could also strengthen the upper arch with a sinus lift procedure.
If you have any questions about the grafting process, or about sinus lifts or implant dentistry, then contact our team today. We want to make sure you enjoy a complete and beautiful smile.
Do You Have Questions About Jawbone Grafting?
We're ready to address the loss of tissue and stability in your smile with oral surgery and implant dentistry. To learn more about our ridge augmentation process or about any of our other oral surgical procedures, then schedule a consultation by calling Santa Rosa and Rohnert Park Oral Surgery in Santa Rosa, CA, today at 707-545-4625. If you sustain an injury to your smile, please don't hesitate to contact our team and learn more.