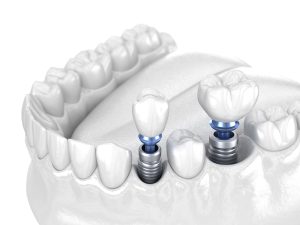 Dental implants not only offer a 90% success rate, they're also sturdy and lifelike, ready to last for decades to come. But how do we place and restore these new teeth? In today's blog, your Santa Rosa and Rohnert Park, CA, oral and maxillofacial surgeons will explain how we prepare and place your new teeth!
Planning Your Treatment
First, we need to understand the factors behind your tooth loss, and to plan the placement with precision and accuracy. To do this, we carefully examine your smile with digital x-ray technology and 3D scanning. The resulting images are available instantly, and provide detailed pictures of your teeth roots, jawbone, sinus cavities and nerve tissues. We then can then discuss treatment to address the underlying causes of your tooth loss, and to plan the angle and area of placement, to avoid sensitive areas and stimulate the growth of bone tissue.
Titanium Roots
When the time comes for placement, we will administer a local anesthetic and possibly dental sedation to help you enter a calm and relaxed state. Next, we carefully insert these into the jawbone, guiding the process with digital technology. The roots, made from titanium, will bond with the jawbone through a process known as osseointegration. This encourages growth of bone tissue, supporting your new roots for decades and also preventing the loss of additional teeth. We then add an abutment to each one that will extend beyond the gum line. Now, your smile is ready for a restoration or prosthetic.
Attaching the Restoration
The restoration is a dental crown that we use to address the visible part of an individual dental implant. The crown is custom-made for a lifelike appearance, comfortable fit, and a dependable chewing surface. If you have lost several teeth, or all of them, then we could attach a bridge, partial, or even a full set of dentures to the abutments. These will last longer than traditional bridges or removable dentures, so you can smile with confidence for decades to come, and avoid the negative changes to your smile that follows untreated tooth loss.
If you have any questions about this process, or if you want to find out if implant dentistry is right for your smile, then contact our team today to schedule a visit.
Do You Have Questions About Implant Placement and Restoration?
If you have gaps in your smile due to missing teeth, then we have options to restore it with implant dentistry. To learn more about how our team secures new smiles with oral surgery, then schedule a consultation by calling Santa Rosa and Rohnert Park Oral Surgery in Santa Rosa, CA, today at 707-545-4625. We want to help you and your loved ones enjoy a complete smile, one that looks and functions like a natural one.