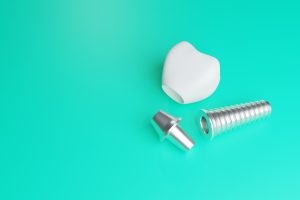 Dental implants are very different from traditional dental bridges or removable dentures. They last longer, and even act as a new tooth root. In today's blog, your Santa Rosa and Rohnert Park, CA, oral surgeons discuss the three different parts of your dental implant, and how they aid in the tooth replacement process.
The Root
When we replace missing teeth with dental implants, we don't need suction, adhesives, or metal clasps to keep them in place. They also don't need crowns on abutment teeth either! Instead, we carefully examine the smile with detailed digital CT scans, and plan the angle and area of placement. We then use digital guides to help secure the posts into the jawbone. Made from titanium, a biocompatible material, these posts will be accepted as natural by the body, and bond with the jaw like actual roots. This process, known as osseointegration, helps prevent further changes to the shade of your jaw ridge, so you avoid further tooth loss and your new roots can stay in place for decades to come, and in some cases, an entire lifetime.
Abutment
Once we insert the post into the jawbone, they will need to bond with the bone structure and the area will need to heal. This could take three to four months on average. When the area heals, we attach an abutment to the posts, which extends above the gum line and allows us to attach a crown or denture to the posts, finishing your replacement tooth. However, in some cases we will secure the prosthetic in the same visit, so we will attach the abutment shortly after inserting the new root.
Restoration
The restoration is a dental crown that is custom-made to ensure a lifelike appearance and a balanced bit. The crown is attached to the abutment, and will restore your ability to chew with ease and smile with confidence. If you have multiple missing teeth, then we can create a bridge, partial, or full denture and secure it to multiple posts and abutments, so you have a full smile. Unlike removable options, these will last for decades, and ever slip when you eat or speak. They also don't need to be taken out for cleaning or soaking each night!
If you have any questions about how we address missing teeth with implant dentistry, then contact our team today to learn more.
Do You Have Questions About Your New Teeth?
Don't live with the complications of untreated tooth loss, talk to our team today. To learn more about how we create a new and lifelike tooth for smiles with missing ones, then schedule a consultation by calling Santa Rosa and Rohnert Park Oral Surgery in Santa Rosa, CA, today at 707-545-4625.