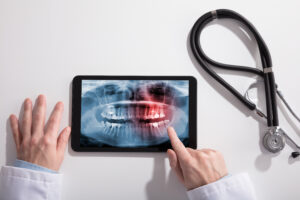 When you come to use for oral surgery, whether extracting teeth or replacing them with dental implants, we want to offer care with precision and accuracy. As part of the planning process, we would use advanced digital x-ray technology. In today's blog, your Santa Rosa and Rohnert Park, CA, oral surgeons will discuss digital x-rays.
The Benefits of a Digital System
When we use digital x-trays, this means that the system employs a fraction of the radiation required for traditional systems up to 90% less. In addition, the images don't have to be developed in harsh chemicals, which not only saves time, but is also better for the environment too. The images will be available instantly chairside, so we can look at them right away and also talk to you about what we've found. Walking you through the diagnostic process is one way to help you better understand your oral health and why you may need certain treatments.
Using X-Ray Technology
The technology lets us know only see the surfaces of the teeth and gums, but peer beneath the gums to see the roots, jaw, oral structures, and sinus cavities. These images let us diagnose the presence of issues like infection, impacted teeth, and the presence of wisdom teeth, while also allowing us to plan treatments in detail, such as dental implant placement or tooth extraction, so we can avoid sensitive portions of your jaw, such as nerve tissues and sinus cavities. We also use them to plan treatments for facial trauma, or to rebuild portions of the jaw with grafting or sinus lifts.
With our panoramic version, we have a machine that circles your head to create full panoramic images of your entire smile and skull, which allow us to plan and implement oral surgeries with greater precision and detail. We could also employ cone-beam computed tomography, or the ICAT scan, to create 3D images on the head and mouth that look at the surfaces of your smile and the parts invisible to the eye, such as the roots and interior structures. Again, this uses a fraction of the radiation that a traditional x-ray imaging system would.
Moving Forward With Treatment
After we plan your treatment, we can administer local anesthetic and sedation to ensure you're calm and comfortable as we move forward with the repair process!
Use Your Benefits
Now is a great time to see us for your concerns, such as an injury, missing tooth, erupting wisdom tooth, or other serious concern. You could use your remaining 2021 benefits before they expire at the end of December!
Do You Have Questions About Our Technology?
Our team is ready to help you receive quality treatment for major oral health issues. To learn more about how we plan and proceed with your treatment, then schedule a consultation by calling Santa Rosa and Rohnert Park Oral Surgery in Santa Rosa, CA, today at 707-545-4625.