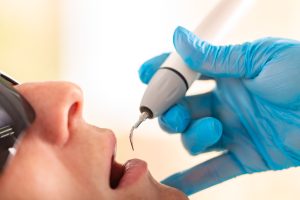 An oral pathology refers to issues that develop in your smile like ulcers or lumps. These could also be indicators of oral cancer or tumors. In today's blog, your Santa Rosa, CA, oral and maxillofacial surgeons explain how we assess these pathologies to help return your smile to optimal health, function, and beauty.
Examining and Diagnosing Your Smile
Common examples of oral pathologies could include red and white lesions and sores in your mouth, rough patches, ulcers and raw patches, or swelling and lumps in the mouth. When these develop, let us know, even if they're not painful. If these last for more than a week, they could indicate the presence of a cyst or tumor, or possibly oral cancer. The sooner you undergo an exam, the sooner we can create a treatment plan to address the issue and preserve your overall health. You may notice these yourself, or your general dentist may pick them up in an exam and refer you to us. Which is why you need to have your smile examined by your general dentist at least once every six months. For our exams, we will employ a full clinical one using digital x-rays and an in-office 3D scanner. We can then identify problematic areas and examine them with precision and accuracy.
Treatment
We may be able to recommend treatment options, or address these issues with a variety of treatments. But to do so, we need to identify and assess them. Don't ignore any of the symptoms we mentioned above, instead let us know right away. Seeing us now means that you can put your remaining 2021 dental insurance or health savings funds to use before they expire at the end of the year, and we can improve your smile before your schedule becomes so hectic with the onset of the holiday season. We then pickup care in 222 once your new benefits come into effect.
Biopsy
We may recommend an oral tissue biopsy, in which we father a small sample of tissues in a lab setting. We then provide a more accurate diagnosis, and discuss treatment or refer to a specialist as needed. If you have any questions about assessing and treating common oral pathologies, or if you think you have an issue that needs attention, then contact our team today. We want to help you and your family maintain your strongest smiles, and enjoy good oral health for years to come.
Do You Have Questions About Oral Pathology?
When you notice issues with the health and beauty of your smile, let us know right away. To learn more about our approach to repairing and rebuilding smiles following serious injuries and issues, then schedule a consultation by calling Santa Rosa and Rohnert Park Oral Surgery in Santa Rosa, CA, today at 707-545-4625.