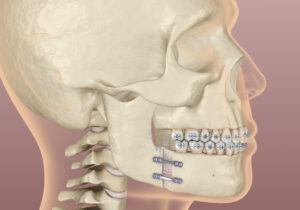 When you have problems with your jaw, whether due to injury or occurring due to issues with growth and development, then this could impact how you eat and speak. This could also complicate orthodontic treatment too! In today's blog, your Santa Rosa and Rohnert Park, CA, oral and maxillofacial surgeons talk about how we address these concerns with orthognathic surgery.
Orthognathic Treatment
Essentially, this refers to any treatments to correct problems with the size and shape of your jaw. These factors could impact the portions of your teeth, and create problems due to bite imbalance and strained jaw joints. In addition to complications like TMJ disorder, bruxism, or tooth decay and periodontal problems, this could also have a negative impact on the beauty of your smile. Correcting these issues could lead to improved esthetics and greater levels of self-confidence. Which is why we find these treatments so rewarding to perform!
Jaw Surgery
First, we will talk with any professional that many have referred you, and we will take detailed images and x-rays and CBCT technology. These detailed images let us plan your treatments with precision and accuracy, avoiding sensitive sinus cavities and nerve tissues in the process. We then perform the procedure and will monitor your healing process in follow-up visits. At this option, you may need to continue treatment with your orthodontist or general dentist, and this could involve wearing braces or aligners for 18 to 24 months to make fine corrections to your smile.
Working with Your Dentist or Orthodontist
This is often a collaborative procedure, one in which we work alongside your general dentist or orthodontist, as they will likely continue your treatment after we address the portions that require oral surgery. This could be necessary as you straighten your teeth or if you need to have teeth removed or portions of your smile rebuilt. We enjoy working with other professionals to help patients obtain a smile that not only functions better, but looks great too. If you have any questions about our approach to these procedures, or if you think you need care, let us know today. There is still time to schedule an appointment, and out your 2021 dental benefits to use before they expire at the end of the month.
Do You Have Any Questions About Oral Surgery?
We would like to help correct your jaw with advanced surgical procedures. To learn more about our approach to jaw surgery, schedule a consultation by calling Santa Rosa and Rohnert Park Oral Surgery in Santa Rosa, CA, today at 707-545-4625. We use our procedures to help people of all ages in our community enjoy healthy, balanced smiles, and we can even address issues such as tooth loss or facial trauma.