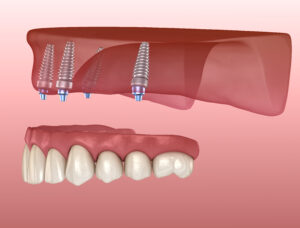 A number of factors could complicate your ability to receive dental implant dentures, from the stability of your jawbone to the presence of gum disease. However, your Santa Rosa and Rohnert Park, CA, oral surgeons talk about All-On-Four, and how this could help people receive implant dentures in one visit, even if they have weakened jawbones.
When You Need Dentures
We recommend dentures for people missing most or all of their teeth. At this stage, a bridge or partial simply isn't effective enough to address your lost teeth. Without replacement, you could develop an aged appearance as the jawbone loses mass and density following tooth loss. Problems eating and speaking could also develop, which further complicates your overall quality of life. To begin the process, we will look at the underlying cause of your tooth loss and if necessary, discuss treatment to address factors like gum disease, as this could complete implant placement. We also want to assess the strength of your jawbone, which weakens following tooth loss. While some may need jawbone grafting and sinus lifts, we could use All-On-Four to help even those with weakened jawbones enough the benefits of implant dentures. 
The Benefits of All-On-Four
With the system, we secure an entire prosthetic on an arch with only four dental implants. Each one is smaller and more economical than traditional ones, but is inserted at an angle and position to support a full prosthetic and stimulate the growth of jawbone use. This stimulation prevents the loss of mass and density, so your new teeth stay in place for decades, and you maintain your youthful features as well. There is no need for surgery to rebuild the smile, and in some cases we insert the dental implants and attach a custom-made prosthetic in the same visit, so you leave with a complete smile!
Preserving Your Dentures
To help prevent implant failure and ensure your new teeth last for decades, or possibly even a lifetime, we could recommend a visit to your general dentist for checkups and cleanings, which control the factors behind gum disease. At home, you also need to brush and floss daily, and cut back on foods high in sugar and starch, or beverages high in sugars and acids. Avoiding tobacco is helpful too! If you have any questions about how we address major cases of tooth loss with All-On-Four, then contact our team today.
Do You Have Any Questions About All-On-Four?
We would like to help you secure a new smile in as little as one visit. To learn more about our tooth replacement options, schedule a consultation by calling Santa Rosa and Rohnert Park Oral Surgery in Santa Rosa, CA, today at 707-545-4625.