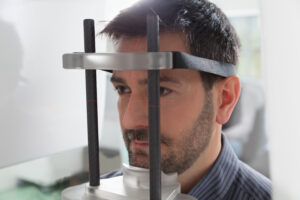 With oral surgery, we address more advanced oral health issues to rebuild smiles and prevent complications. To plan this treatment and implement it with advanced technology, our team uses CBCT technology. In today's blog, your Santa Rosa and Rohnert Park, CA, oral surgeons discuss the benefits of CBCT imaging systems. 
Planning Your Treatment
Every smile is different, which means every treatment needs to be approached with a personalized touch. Whether we're removing a tooth or treating facial trauma, we need to obtain a clear and detailed look at your smile. Which is why we opt for cone beam computed tomography (CBCT) to obtain these images. The process allows us to not only look at the surface of your teeth and gums, but to peer beneath the gums to examine your roots, jaw, and oral structures, creating high dentition 3D images. These x-ray images don't need to be developed in harsh chemicals and use a fraction of the radiation required for traditional systems. The images will be available instantly chairside, reducing time spent in the chair and allowing us to even walk you through the diagnostic process so you gain a better understanding of your situation and what treatment will involve. 
Benefits for Your Smile
The process is a fast and comfortable one, and one that allows us to make a diagnosis with better precision. We pinpoint the location of sinus cavities and nerve tissues, so we can ensure your treatment is comfortable and avoid any complications. We also assess the strength of your jawbone to find out what treatment your smile is ready for, or if you will need care for underlying oral health issues before we move forward. Applying advanced technology to the planning process ensures a comfortable and relaxing treatment experience!
Oral Surgical Applications
We could use this to identify the presence of wisdom teeth and facilitate a safe and gentle tooth extraction. We can find out if you need bone grafting or sinus lifts before the placement of one or more dental implants. We can even guide their placement to ensure they sit at the right position and angle to support a new tooth or a prosthetic. If you have any questions about how our team employs such advanced imaging systems as part of your treatment, or if you would like to schedule an appointment, then contact our team today to learn more. 
Do You Have Any Questions About Digital Imaging?
Our team is ready to help start your treatment with the use of advanced digital technology. To learn more about planning treatment with precision, then schedule a consultation by calling Santa Rosa and Rohnert Park Oral Surgery in Santa Rosa, CA, today at 707-545-4625.