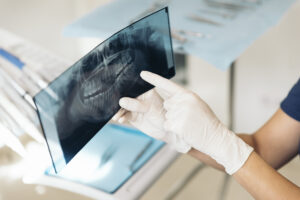 Our team provides oral surgery to address issues like facial trauma, tooth loss, bone grafting, wisdom tooth impaction, and more. But to plan and perform these procedures with accuracy and precision, we employ digital technology. In today's blog, your Santa Rosa and Rohnert Park, CA, oral surgeons discuss the benefits of the CBCT imaging system!
When to See Our Team
If you have recently lost a tooth, or if a dental emergency has damaged your teeth, gums, or oral structures and jaw, then you should contact our team. We also offer treatment for oral pathologies, such as areas with sores or lesions that haven't healed after a week. We can extract decayed or infected teeth, or your wisdom teeth, to protect your smile. If you've lost jawbone tissue following tooth loss, we can rebuild it with grafting and sinus lifts. Our approach to oral surgery helps rebuild your smile, and we often work alongside your general dentist and orthodontist to ensure everyone is on the same page and that you receive quality treatment. But how do we offer care with such precision?
CBCT Technology
When you see us, we will use Cone Beam Computed Tomography (CBCT) to gather a series of detailed digital images of your smile. The process is quick and comfortable, limiting your time in the office. These x-rays images will be high definition, so we can zoom in on certain areas, walk you through the process, and help identify factors in the earliest stages. This also uses a fraction of the radiation traditional x-rays emit. We not only use this as part of the diagnostic process, but to also plan and guide oral surgery, from choosing the best areas to place your dental implants, to treating trauma without impacting nerve tissues or sinus cavities.
Use Your Benefits
If you have issues that need attention, or if your dentist has referred you to us, then contact our team today. Seeing us now means you undergo care before the hectic holiday season puts a strain on your schedule. In addition, you can use any remaining dental insurance benefits or health savings funds before they expire! You earned these benefits, so put them to use to ensure you start 2022 with a stronger and healthier smile! If you have any questions about how we examine and treat smiles using advanced technology, or about your coverage, then contact our team today. We're ready to see you and make a difference in your smile!
Do You Have Questions About Our Oral Examinations?
We always strive to offer the best care with the latest diagnostic technology. To learn more about how we plan and guide your oral surgery with precision, then schedule a consultation by calling Santa Rosa and Rohnert Park Oral Surgery in Santa Rosa, CA, today at 707-545-4625.