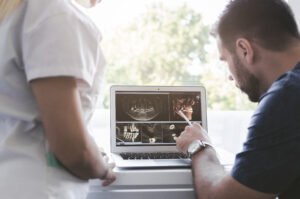 While we focus on oral surgery, we are also dedicated to oral pathology, which is the study and treatment of diseases that can affect the interior areas of your mouth. We love to provide our patients with healthy smiles, jaws, and mouths, and a major component of this is focusing on their overall oral health. We want to see you thrive, and we believe that treating any diseases that can affect your mouth is a great way to help. In today's blog, your Santa Rosa and Rohnert Park, CA, oral surgeons discuss oral pathology and the myriad ways we can identify and treat harmful diseases.
Understanding This Field
Oral Pathology consists of studying, identifying, and managing the diseases and problems that can affect your mouth. Your oral cavity is susceptible to myriad diseases and problems that can affect more than just your gums and teeth. Some of the primary areas of study within this field are periodontal disease, ulcers, cleft palate and lip, tongue enlargement, and oral cancer. Many of these issues have similar symptoms, so if we do notice anything, we can begin figuring out the causes right away. The most common symptoms we see within oral pathology are sores, abrasions, discoloration, and bleeding. We also stay on the lookout for any abnormalities we see. We also encourage you to let us know if you are experiencing any health issues at home that we might not see during an examination.
Taking Oral Cancer Seriously
Oral cancer is a major subject of research and treatment within oral pathology. Because it shares symptoms with other diseases found in the mouth, we believe in remaining vigilant in our efforts to identify the disease. Even if you are young or in good health, it is important to keep in mind that oral cancer can affect anyone. Because of this, it is crucial for you to both inspect your mouth for abnormalities and to visit your oral healthcare professional regularly, so they can look for common signs.
When you come into our office for any procedure, we will examine your mouth to see if there are any of the aforementioned abnormalities. If we do notice anything, we will conduct an oral biopsy, which is when we take a small tissue sample from the affected area and send it to a lab where they test it to see if cancer — or another disease — is present. If the sample comes back negative, we will continue to monitor the area to see if any other changes occur. If it happens to be positive, we will work with you and other doctors to come up with a comprehensive treatment plan.
Contact Us To Learn More About Oral Pathology
We are here for all of your oral health needs. If you have any questions or have noticed anything unusual in your mouth, contact your Santa Rosa, CA, oral surgeons by calling 707-545-4625.