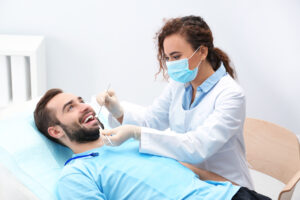 We understand that visiting your oral surgeon or dentist can feel daunting. In fact, many of us have anxiety when we go to our oral health care provider. This is completely normal and you should always feel comfortable expressing your concerns and stress to your dentist. We put the comfort of our oral surgery patients first, which is why we provide anesthesia and sedation to those who require it. In today's blog, your Santa Rosa and Rohnert Park, CA, oral and maxillofacial surgeons outline the sedation options we provide and the procedures for which we use them.
Our Team Is Highly Trained
We put our patient's comfort and safety first, which is precisely why we monitor their sedation and anesthesia very closely. We have lots of experience using these tools on patients of all ages, so you can rest assured that you are in great hands. We are entirely licensed and adhere closely to all guidelines relating to anesthesia and sedation, in general. Our team utilizes the same monitoring and safety standards in our office that we do in hospital operating rooms.
Nitrous Oxide For Mild Sedation
Nitrous oxide is also known as laughing gas and is an extremely common type of dental sedation. It is very mild but also versatile. Because it is diluted with oxygen, you can breathe it in through your nose with a small mask as you undergo your procedure. It will help alleviate anxiety and discomfort but still leave you cognizant enough to ask us questions or answer any we may have for you. A major benefit is that the effects wear off within minutes after you stop breathing it in.
Oral Sedation
Oral sedation comes in the form of a pill or liquid and you take it before you arrive at your appointment. This way, by the time your procedure begins, you will already be feeling the effects. Because it has longer-lasting effects, you will need someone to drive you to and from your appointment. This form of sedation is stronger than nitrous oxide, so it can be used with more anxious patients or for more intrusive procedures.
IV Sedation Is The Strongest
Outside of general anesthesia, IV sedation is the strongest form we offer. It is administered directly into your bloodstream and works very quickly. We provide this for procedures like wisdom teeth removal or any other that is more invasive. If you have this sedation, you will be monitored the entire time by a professional to ensure your safety. The effects of it do linger, so you will need a friend or family member to drive you home.
Contact Us To Learn More About Our Sedation Options
Your comfort is of the utmost importance to us, and we are always striving to help you feel as relaxed as possible. If you would like to learn more about the services we provide, schedule a consultation by calling Santa Rosa and Rohnert Park Oral Surgery in Santa Rosa, CA, today at 707-545-4625.