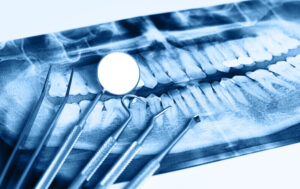 We want to offer oral surgery for our patients with precision and accuracy, whether you need a simple tooth extraction, or grafting to rebuild missing jawbone tissue. To plan and implement treatment, your Santa Rosa and Rohnert Park, CA, oral and maxillofacial surgeons will use advanced CBCT technology.
Our Oral Surgical Procedures
We have a number of options to help improve the beauty and function of your smile. For example, we can extract wisdom teeth before impaction occurs, or even bracket impacted teeth to help correct misalignment. Our team can also replace missing teeth with advanced and lifelike dental implants, and rebuild smiles that have lost structure with grafting and sinus lifts, making them ready for implant dentures. Our team can repair facial trauma to improve bite balance and function, and overall esthetics too. Corrective jaw surgery is also available as well. But no matter what procedure we provide, we want to carefully plan the process with precision and accuracy. To accomplish this, our team needs to implement advanced imaging technology.
The Use of Diagnostic Imaging
Using Cone Beam Computed Tomography, our team can take detailed images of the jaw, face, teeth, and oral structures quickly and comfortably. The resulting images are high definition and available to view instantly, no need to wait for development. This also uses a fraction of the radiation that traditional x-ray or CT scanning technology employs. This allows us to plan your treatment with better precision, and avoid sinus cavities and nerve tissues. After all, the goal is to ensure you obtain quality results in a comfortable manner. In addition, we will work with your general dentist or orthodontist as needed, to ensure treatment continues without delay once we've completed the oral surgery portion.
If you have any questions about how we use CBCT technology to plan and guide the oral surgery, then contact our team today. If you have an issue that needs attention from skilled and experienced oral surgeons, then please schedule an exam and consultation with our team soon. We look forward to hearing from you and starting you on your journey to optimal oral health.
Schedule a Consultation with Our Team
Our team wants to offer quality oral surgery to restore the function, health, and beauty of your smile. If you have any questions about our advanced imaging systems, then contact your Santa Rosa, CA, oral surgeons by calling 707-545-4625. We want to make sure you enjoy your time in our office, and always feel comfortable when undergoing care. In addition to advanced technology and treatments, we also have local anesthesia and dental sedation to help you remain relaxed and calm, with little to no memory of the procedure at all!