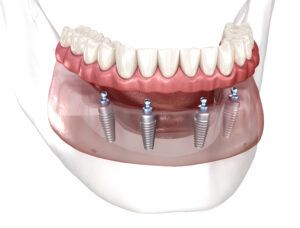 Did you know that we can offer a full set of dentures secured with dental implants in one visit? Using the All-On-Four process, we can even help people with weakened jawbone structure enjoy tooth replacement that can last decades to come. In today's blog, your Santa Rosa and Rohnert Park, CA, oral surgeons talk about All-On-Four.
Total Tooth Loss
When we lose most (or all) of our teeth, this could mean severe limits on the foods we can eat, which inhibits nutritional intake and denies us our favorite meals. In addition, this could complicate how easily we speak and cause embarrassment in social situations. As the body suspends the flow of calcium and phosphorus to the areas of the jaw without tooth roots, this also causes the tissue to break down, leading to an aged appearance. But we can restore function and beauty again with lifelike dental implants!
All-On-Four
Typically, when a jaw loses mass and density following tooth loss, we need to first rebuild the structure with grafting and sinus lifts before we can move forward with implant placement. But with All-On-Four, we can address more substantial cases of tooth loss with a prosthetic that needs only four posts to support it. These posts are smaller and more economical, and are guided in place with digital technology. They sit at an angle and position to encourage jawbone growth and prevent further breakdown in structure. This helps you maintain your facial structure and youthful features, and also allows the new roots to stay in place for decades to come, possibly a lifetime.
A New Smile
Once we insert the post into your jaw, we will attach abutments to them and connect the custom-made prosthetic. The denture will be designed to look natural and provide a durable chewing surface. In the same visit, we will attach the denture so you can leave with a complete smile and smile with confidence! The prosthetic never needs to be removed for cleaning or soaking, we will discuss how to care for them daily. They also never shift when you eat or speak, so no slippage. As we mentioned above, they also last much longer, offering some patients a lifetime of tooth replacement, with a secure and stable prosthetic.
If you have any questions about how we address missing teeth with All-On-Four, or if you have missing teeth that need attention, then contact our team today. We would love to help you smile with confidence again!
Do You Have Questions About Missing Teeth?
We would like to help you enjoy a full smile again with our lifelike implant dentures. If you have any questions about the benefits of implant dentistry, then contact your Santa Rosa, CA, oral surgeons by calling 707-545-4625.